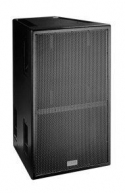 The KF850 Series has been the touring system standard for well
over ten years, being acceptable in more technical riders than any
other loudspeaker. The KF850z incorporates a number of advances
in loudspeaker technology and performance developed over that
time by EAW Engineers. The result is a KF850 with higher impact
and fidelity than ever before.
Legendary KF850 performance is enhanced with a neodymium,
Orbital Magnet Array? HF driver offering increased surface area for
better cooling, and higher reliability. A new HF horn extends HF
response and fidelity while minimizing throat distortion. The critical MF
subsystem is based on EAW's Radial Phase Plug? design used in
the KF650, KF750, and KF760. An optional user-installed, passive
MF/HF crossover kit allows more economical, bi-amplified operation.
The KF850z's advanced performance will not be sonically
compatible with existing KF850E inventories. To facilitate
integration, kits are available to upgrade them to the KF850z. The
KF850z's enclosure is fully compatible with the KF850E Series.
However, the "z" enclosures incorporate a stacking pad on top that
mates with a recess in the bottoms. KF850z DSP processor settings
are available online for EAW's MX8750 as well a select group of
other popular touring processors.
KF850 Series applications continue to include: concert tours,
corporate events, large theaters, stadiums, cathedrals, large live
music clubs.
Eastern Acoustic Works
Eastern Acoustic Works (EAW) is the global leader in high-performance, professional loudspeaker system design and manufacture. Based in an historic mill complex in Whitinsville, Massachusetts, USA, EAW gives audio professionals a comprehensive tool kit that helps them deliver customized sound reinforcement solutions for venues and events around the world.
Used Cabinet Speakers
Find used speakers and used speaker cabinets from popular brands as JBL, Turbosound, EAW and more. All used speakers we carry are warrantied and in most cases inspected by factory certified technicians. Solaris sells and buys secondhand and used speaker cabinets for use in churches, clubs, theaters and other large events and shows. Call us if you don't find it and we will find it for you.
KF850 - Package of (4) KF850, (4) SB850F, and Amp Rack in good condition. Two packages are available.
KF850 - This is a Complete Speaker System from Eastern Acoustic Works. In Great Condition.
KF850 - KF850 in great condition. Minimum purchase of (2) units. Priced per unit.
KF850 - KF-850/SB850 Package
KF850 WX - Sold in pairs only, price is per PAIR.
KF850 PI - Sold in pairs only, price is per PAIR.
KF850 - Package of 12 speakers with amps and processing
KF850 - KF850 package of ten units. Used on various rentals. Comes with a 15 day warranty.
KF850 Package - KF850 package. Used on various rentals.
KF850 - Legendary KF850 Cabinets
KF850 - KF850 EF Three Way Loud Speaker