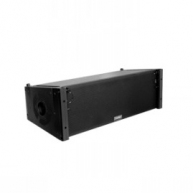 A tri-amplified, three-way, full range system in a trapezoidal line array module. Four 10-in LF cones, sealed, phase-aligned; dual 8-in MF cones, horn-loaded; dual 1.4-in exit HF compression drivers, horn-loaded. 90 degree (h) by 12 degree (v) nominal coverage pattern per module. Actual vertical beam width varies with array configuration.
Eastern Acoustic Works
Eastern Acoustic Works (EAW) is the global leader in high-performance, professional loudspeaker system design and manufacture. Based in an historic mill complex in Whitinsville, Massachusetts, USA, EAW gives audio professionals a comprehensive tool kit that helps them deliver customized sound reinforcement solutions for venues and events around the world.
Used Line Array Subs
Find used line array subwoofers and line array subs from such popular brands as Meyer Sound, d&b audiotechnik, L-Acoustics and Nexo. All used line array speakers are warrantied and in most cases inspected by factory certified technicians. Solaris sells and buys secondhand and used line arraysubs for large concerts, tours, stadiums and auditoriums. Call us if you don't find it and we will find it for you.