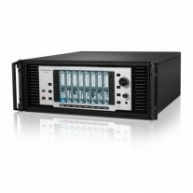 The new EM 9046 multichannel receiver is destined to become the reference standard throughout the broadcast and theatre production industries, like the legendary EM 1046 that came before.

The EM 9046 incorporates up to 8 digital receiving channels, each with 328 MHz of switching bandwidth covering the UHF spectrum from 470 to 798 MHz. A highly intuitive, icon-based user interface provides a complete system overview via a large TFT display. Designed for maximum spectral efficiency, the EM 9046 can safely accommodate as many as 40 channels within a 24 MHz frequency window. Complex intermodulation calculations are no longer necessary - operating frequencies can now be evenly spaced.

A broad variety of connection options allow for easy integration into existing audio and IT infrastructure. Receiver modules can also be exchanged for upgrade and maintenance, making DIGITAL 9000 a future-proof investment.

Features
Fast setup and easy operation with an excellent system overview
8-channel modular receiver system tuneable between 470 and 798 MHz
Automatic compensation of RF Cable loss
Antenna loop-through to cascade up to 4 system units
Built-in graphical spectrum analyzer and RF level recorder
Analog and AES 3 output modules with a signal split of up to 1:6
Uncompressed digital audio transmission
Sennheiser
Established in 1945 in Wedemark, Germany, Sennheiser is the acknowledged world leader in microphone technology, RF-wireless and infrared sound transmission, headphone transducer technology, and most recently, in the development of active noise-cancellation. Sennheiser Electronic Corporation (SEC) is the U.S. wholly-owned subsidiary, with headquarters in Old Lyme, Connecticut. SEC represents all Sennheiser products in the United States. It distributes a variety of other pro audio lines, including Neumann, Turbosound, HHB, K+H, Rosendahl and Australian Monitor. Our commitment to the world of audio is simple: we offer products that provide the finest combination of performance and value available anywhere, and back them up with superlative service. "Our people are dedicated to delivering our 3-D vision" Success is a result of good planning combined with good luck. Yet today, one might be the very best planner, and enjoy incredible luck, yet still be limited in pursuit of success unless he or she recognizes an additional ingredient in the success formula. PEOPLE...because no matter how great the product or service offered; no matter how attractive the price/performance ratio; no matter how grand and innovative the marketing efforts; the bottom line is that today's knowledgeable and demanding consumers require the service and support that is only possible through high quality people. Delight our Stakeholders; our associates, customers and suppliers Demand Excellence; in our products; services and people Deliver Results; to do what we say we will do Our team understands fully that consumers have many choices today. The consumer's commitment to a company and/or product is predicated on a number of things including products, performance, price, services, and among other things; their loyalty, however, is primarily due to people.
Used Input and Output Processors
Input/output processors are used for multichannel sound recording in real time. Capable of studio-grade fidelity, these specialized soundcards are used in professional sound engineering and make use of an audio stream input output protocol. These kinds of I/O audio processor soundcards are fitted with multiple input and output connections, usually USB, FireWire or some kind of optical interface so that a larger amount of data can be carried than with a normal sound card. Input/output processors also emphasize higher fidelity and sampling rates, as they are intended for real-time audio mixing and multi-channel recording. Due to their highly specialized nature, input/output processors are not considered practical for home users, as they lack certain features common in consumer soundcards, such as real-time ambience effects, environmental audio extensions and the ability to accelerate hardware in video games, as these are considered to be undesirable. Input/output processors feature a specially designed protocol that is capable of handling numerous inputs and outputs for audio, as consumer soundcards have a sampling latency that is comparatively large, and therefore unsuitable for professional applications. Consumer soundcards simply take too long to convert and transfer a sound sample to the hard drive of a computer, and they are also limited in the amount of bit depths and effective sampling rates they can process. Input/output processors typically have multiple channels, rather than just the two provided on most consumer soundcards, and there connectors are more accessible.