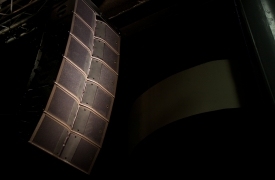 Leeds University Venue Stylus Gets KARAi Installation
September 10th, 2011
LeedsUniversity's1,000 capacity Stylus , an all purpose venue used bystudentsfor a range concerts and liveperformances, has been outfitted with a brand new L-Acoustics KARAi system as part of a major refurbishment.

The installation was a tricky one, as it involved fitting 6 KARAi's on each side of the venue, and it had to be flown across the old box Truss which is used for the light fixtures rigging. Engineers had to be extremely precise when it came topositioningthe flying points, while a creative solution was needed to optimize the arrays as there was also limited headroom available.

The systemincorporatedtwo L-Acoustics 12XTi's flown used as downfills for the Center Stage, and 10 SB18i subs under the stage.