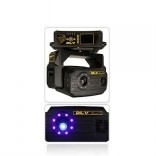 The DLV Digital Light represents the next evolution in creative lighting. Built on the same industry standard software as the DL.3 Digital Light and Axon Media Server, the DLV brings digital lighting abilities to any stage, club, or application. The DLV integrates a media server loaded with royalty free content with a high output 3-chip LCD light engine. DLV mounts like any other intelligent moving luminaire and controls just as easily with plug-and-play operation using standard DMX or Art-Net cabling and protocols.

With over 4000 lumens from the compact unit, the DLV is capable of bright dynamic projections and Strong aerial imagery. Never before has digital lighting been as affordable and easy for a large range of production types. The DLV allows simple uploads of custom content and 3D objects directly from the Content Management Application. Now any Venue can create powerful media presentations directly from any lighting controller. The proven DL.3/Axon software comes loaded with effects, Collage Generator, Curved Surface Support and more. With the DLV, the power to create is in your hands!

The DLV is the first digital light to include the innovative Indigo Highlighter feature. Providing designers with additional light output from eight 1-watt indigo LEDs further increases the layering abilities of the DLV.

High End Systems not only started the digital revolution, it also offers the widest digital lighting product mix of any manufacturer, priced and scaled for any budget and Solution.
High End Systems
From Ani di Franco to ZZ Top concerts. From Super Bowl half time to popular music award shows. From trade shows and talk shows to Olympic ceremonies or church sanctuaries. At High End Systems Inc., we innovate and create the lighting products and control systems that illuminate some of the world's biggest artists on the largest stages, as well as film and television sets, cruise ships, theme parks, restaurants and retail spaces. Now entering our fourth decade, we're one of the world's largest entertainment lighting manufacturers, a pioneer in new digital lighting technology and producer of the industry-preferred lighting controller technology. We attribute our success to staying in touch with the needs of the entertainment lighting community. Product research and development at our Austin, TX headquarters is an ongoing collaboration between in-house engineers and lighting designers in the field. This collaboration is largely to thank for our status as a major industry innovator and intellectual property holder. We're not only keeping pace with industry developments - we're guiding them. We're constantly pushing the creative and technological envelope to meet customer needs and stay ahead of the curve. As members of the entertainment community, we know reliability is paramount. We maintain rigorous manufacturing standards, while providing industry-leading customer support services.
Used Intelligent Lighting Projectors
Intelligent projectors are a special type of lighting equipment used in theatre and concerts, which are used to project a beam of light onto a specific location on the stage. Intelligent projectors, also called moving head projectors, and a unique kind of digital lighting'?? they have no actual lens, and so the spread of the light beam is always very narrow. Moving digital luminaires such as these intelligent projectors are very popular with lighting technicians, as the narrow beam of light allows them to define a very small portion of the stage, while leaving the rest of the performance area in darkness. This effect is referred to as a '??godspot effect'?Ě. They are often combined with special effects such as fog or haze in order to create very atmospheric conditions on the stage. Intelligent projectors use two reflectors '?? a parabolic reflector for organizing the light into beams that are virtually parallel, and a spherical reflector at the front of the digital lighting, which reflects the light beam onto the parabolic reflector, thus lessening the amount of spill. This design results in intelligent projectors producing an extremely intense and very narrow light beam, which is neither easily modified or controlled.