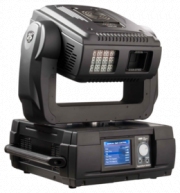 ROBE's DigitalSpot 3000 DT is the first Digital Moving Light Projector worldwide combining a LED-based Wash Light with a Digital Moving Light Projector. The fixture emits 2.700 ANSI lumens from a single 200W projection lamp with an awesome contrast ratio of 2,000:1 which is now available in an affordable and compact package featuring an additional REDWash Module (RED = Robe Emitted Diodes). DigitalSpot 3000 DT is an ideal tool for corporate events, clubs, TV and theater. It can be used in any application needing projected digital content, and the combination of the REDWash and projection effects means that the projection area can be framed in colours and textures from the LED wash Elements while the projection remains in its original format.

Details:

Electrical Specification
Power Supply: Electronic auto-ranging
Input voltage range: 100 - 240V AC, 50/60Hz
Power consumption: 520VA
Projector Specification
Model: Benq MP624
Light output: 3.000 ANSI lumens
Lamp: 200W
Rated lamp life: 3.000 hours Normal Mode (4.000 hours Eco Mode
Aspect ratio: 4:3
Resolution: XGA (1.024 x 768)
Contrast ratio: 2.500:1 (full on/full off)
Display technology: DLP by Texas Instruments
Display colours: Full 16.7 million colour palette
Environmental Specification
Operating ambient temperature range: 0 - 40degC
Maximum housing temperature: 60degC
Connection
? Video inputs:
Data projector: 1 x S-Video (Mini Din 4-pin), 1 x Composite video (RCA)
Graphic Engine: 1 x S-Video (Mini Din 4-pin), 1 x Composite video (RCA)
DMX data in/out: Locking 3-pin and 5-pin XLR
2 x USB 2.0 connector (series A)
ArtNet: RJ 45 (Neutrik Ethercon)
AC power input: 1.5 m power cord without plug
Hardware
Motherboard: MSI G31M-F
Processor: Intel Core2 Duo E8400, 3.00 GHz, 1333 MHz FSB
Memory: 1GB RAM
Graphics card: nVidia 9500 GT
Video capture card: AverMedia DVD EZMaker
Hard disk: Seagate Momentus 160 GB
Gigabit Ethernet
Operation System
Linux OS
Graphic Engine
3 gobo layers for image and video control
The graphic engine supports combined total of more than 60.000 original and user-created videos/gobos usable on all gobo layers
Individual X and Y positioning and scaling for each gobo layer
Rotating and indexing with continuous rotation for each gobo layer
Gobo layer transparency for smooth gobo layer cross-fading
2 Effect Engines per Layer with more than one hundred Effects
Huge amount of Default Images/Videos
Import of User Images or Videos
Layer media control modes (Copy, Add, Substract, Multi, Minimum and Maximum)
Banner Effects creating action scripts for Images or Videos
Digital Iris effect + 160 Masking effects
Full Key-Stone correction
Digital strobe effect
CMY Image and Video Colour Mixing and CTC (Colour Temperature Correction)
Adjustable playback speed, In frame and Out frame parameters for Video Playback
Supported image file types: BMP, JPG, TGA, PNG, GIF, PCX, PNM, XPM and LBM (max 4.096 x 4.096 pixel)
Supported video files: MPEG 1, MPEG 2
Preview of projecting output through web interface
Effect video synchronization
Picture Merging effect in the field up to 64 segments in several different matrice comfiguration
Projection onto cylindric/spheric surfaces and angular screens
Video processing on all gobo layers from remote streaming video server
3 DMX Modes, max.136 DMX control channels
Adjustable projector refresh rate to synchronize out put with videocamera's processing
Integrated LEDWash Module
Light source: 48 Luxeon Rebel LEDs (RGBW)
Optical system: 25deg beam angle
RGBW colour mixing
Adjustable strobe sequences
Full range dimming
Control
5″ TFT LCD display & Robe Navigation System
Web access for total control of fixture
Media Content Synchronization in web interface
Music-trigger
Electromechanical Effects
Motorized focus
Mechanical shutter
Pan/Tilt
Pan movement range: 530deg
Tilt movement range: 280deg
16 bit movement resolution
Controllable speed of Pan/Tilt movement
Automatic Pan/Tilt position correction
Built-In Pan/Tilt macros
Rigging
Mounting points: 2 pairs of -turn locks
2x Omega bracket with -turn quick locks
Safety chain/cord attachment point
Mechanical Specification
Height: 614 mm (24.2″)
Width: 533 mm (21.0″)
Depth: 431 mm (17.0″)
Weight: 28 kg (61.7 lbs)
Robe
Robe Show lighting . Manfuacturer of high quality Intelligent Lighting systems and products. ROBE Lighting, Inc. Headquarters: 13807 N.W. 4th Street, Sunrise, Florida 33325 Tel.: (954) 615-9100 Fax: (954) 615-9105
Used Intelligent Lighting Projectors
Intelligent projectors are a special type of lighting equipment used in theatre and concerts, which are used to project a beam of light onto a specific location on the stage. Intelligent projectors, also called moving head projectors, and a unique kind of digital lighting'?? they have no actual lens, and so the spread of the light beam is always very narrow. Moving digital luminaires such as these intelligent projectors are very popular with lighting technicians, as the narrow beam of light allows them to define a very small portion of the stage, while leaving the rest of the performance area in darkness. This effect is referred to as a '??godspot effect'?Ě. They are often combined with special effects such as fog or haze in order to create very atmospheric conditions on the stage. Intelligent projectors use two reflectors '?? a parabolic reflector for organizing the light into beams that are virtually parallel, and a spherical reflector at the front of the digital lighting, which reflects the light beam onto the parabolic reflector, thus lessening the amount of spill. This design results in intelligent projectors producing an extremely intense and very narrow light beam, which is neither easily modified or controlled.
DigitalSpot 3000 DT - Must purchase all 8 units. Priced per unit. In great condition. Previously used in an installation.
DigitalSpot 3000 DT - Used Once @ Tradeshow A Steal @ This Price
DigitalSpot 3000 DT - Used on corporate events. Led-based wash light with digital moving light projector.