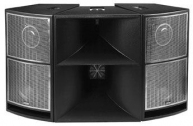 The DC1 is engineered for use in permanent installations. The system includes four 15 in woofers in two optimally vented enclosures, a horn-loaded 10 in midrange and a 2 in exit/3 in voice coil high frequency Compression Driver on a 90deg x 40deg dispersion constant directivity horn. The system comprises three separate enclosures a central mid/high section and two LF enclosures that mount on either side. The mid/high horn dispersion is vertically asymmetrical (+10deg,-30deg). Each pair of woofers is mounted in a push/pull configuration to minimize mechanical distortion. A complex asymmetrical internal passive crossover/filter network provides MF/HF subsystem integration.

Applications
The DC1 bi-amplified 3-way dance club system provides high output, high definition reinforcement for large-sized clubs. The DC1's asymmetrical horns direct coverage down when the enclosures are mounted flush to a wall. The enclosure includes balance-optimized threaded mounting points. Like all EAW products, it can be special ordered in virtually any color to match a specific dcor.

Eastern Acoustic Works
Eastern Acoustic Works (EAW) is the global leader in high-performance, professional loudspeaker system design and manufacture. Based in an historic mill complex in Whitinsville, Massachusetts, USA, EAW gives audio professionals a comprehensive tool kit that helps them deliver customized sound reinforcement solutions for venues and events around the world.
Used Cabinet Speakers
Find used speakers and used speaker cabinets from popular brands as JBL, Turbosound, EAW and more. All used speakers we carry are warrantied and in most cases inspected by factory certified technicians. Solaris sells and buys secondhand and used speaker cabinets for use in churches, clubs, theaters and other large events and shows. Call us if you don't find it and we will find it for you.