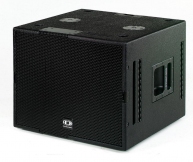 Depending on the application, the COBRA-4-FAR cabinet can be used up to 80m throw distance. For the high frequencies of the COBRA-4-FAR, three Electro- Voice DH2T titanium diaphragm drivers are connected to a low-resonance waveguide that creates a coherent isophasic wavefront with a precisely defined vertical dispersion angle of 5deg at 10kHz. Stacking of COBRA-4-FAR cabinets automatically increases the height of the isophasic wavefront due to the mechanical design of the low-resonance waveguide. The mid-range of the COBRA-4-FAR uses selected Dynacord C8 cone transducers in a line array configuration. The C8 transducers show significantly lower distortion than typical horn/Compression Driver combinations.

Therefore an extremely natural sound quality over large distances can be achieved. The Dynacord COBRA-4-FAR uses a vented direct-radiator design equipped with an Electro-Voice EVX155 for the low frequencies. The cabinet is equipped with an electronic circuit called VOICE COIL TRACKING PROTECTION. This circuit senses the terminal voltage of the transducers and simulates the thermal behaviour of the transducer voice coils. In case of potential thermal overload the power applied to the speakers is reduced to a safe level. Power amps up to 1200W/8Ohms can be used in order to have maximum dynamic range without the danger of thermal overload in non-controlled situations. The VOICE COIL TRACKING PROTECTION exhibits ??soft switching characteristics, so no annoying clicks or pops are audible. The circuitry automatically resets after the voice coil temperatures have reached a safe value.
Dynacord
Brands like DYNACORD, ELECTRO-VOICE, RTS and others are under the roof of Bosch Communications, Inc. EVI Audio GmbH as the European headquarters with the electronics manufacturing is located in Straubing, Germany. The loudspeaker boxes are produced in a second facility in Hohenwarth, approximately 45 km away. In Europe approximately 650 employees are occupied, approximately 500 of which are in Germany. Regional PI-distribution offices are in all large areas of business concentration across Germany. EVI Audio GmbH is also responsible for the activities of the subsidiaries in France and UK and for the territory of Africa and Middle East. The place of work is Straubing, a mid-size city in close proximity to the Bavarian Forest with his many idyllic little villages. This area offers all amenities and schools close by and all possibilities of living, leisure and sports.
Used Cabinet Speakers
Find used speakers and used speaker cabinets from popular brands as JBL, Turbosound, EAW and more. All used speakers we carry are warrantied and in most cases inspected by factory certified technicians. Solaris sells and buys secondhand and used speaker cabinets for use in churches, clubs, theaters and other large events and shows. Call us if you don't find it and we will find it for you.
Cobra 4 - Package of (42) Cobra 4, with L2400 Amp, and DSP 255 Controller in good condition.
Cobra 4 - Turn key Cobra 4 System in good condition.
Cobra 4 - Cobra 4 turn key system in good condition. Previously used on various tours.
Cobra 4 - Turn Key Cobra 4 system in good condition, previously used on tours.