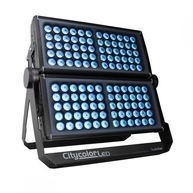 The CITYCOLOR LED is an high powerful LED Lighting fixture, designed with unique features.
Available with RGBW/full color HIGH EFFICIENCY CREE XML 20W LEDs.
The product is suitable for applications where a powerful and large light output is required. With 47.000 lumens the compact CITYCOLOR LED is particularly useful for lighting hire companies for use on tours, festivals, large events, in theatres and for film and TV studios productions. The product incorporates all the features of its historicaly famous predecessor, the CITYCOLOR, but has several key advantages due to the cutting edge Flicker Free on camera LED technology and renewed streamlined aesthetics.

Standard fixture colour finishing is black. Optional grey and white (art. FX-COLOUR).

Same light output of traditional Citycolor.
1/3 of its power consumption.
1/3 of its weight.
Up to 65 wide beam angle.
Small and lightweight.
Studio Due
Studio Due has been creating lighting systems for live performances, discotheques and television studios since 1982. Through constant research and innovation, and the use of premier-quality materials, Studio Due has established an international reputation as one of the market leaders in the field of professional lighting. In 1998 Studio Due has enlarged its range of products - moving head spots - outdoor multirays effects - controllers introducing a new line of - colour changer for architectural light - moving par concept specifically designed to satisfy the requirements of the architectural lighting; the most famous and world-wide appreciated among these products is the CityColor. Studio Due thanks to continuos investments is today able to produce inside the company most of the components needed in the final assembling of their products, that means manufacture high quality fixtures without loosing the flexibility in the production.
Used LED Lighting
LED lighting is a specialized kind of stage lighting which is highly valued by technicians due to its high light output and low power consumption. Used as an alternative to traditional stage lighting such as halogen lamps, LED stage lighting is a more than capable alternative for just about any kind of application, although it is primarily used for lighting cycloramas, and for side, back and top lighting. In addition to these uses, LED lighting can be used to '??blind the audience'?Ě, a nice special effect which involves briefly exposing the audience to a direct light beam from the LED stage lighting at crucial moments of the concert or show. LED wash lights are also great for applying a technique known as '??wall washing'?Ě, thanks to the high intensity of their light beam. LED wash lights can provide the full spectrum of light colors, despite usually only being fitted with green, blue and red LEDs. The operator simply needs to adjust the intensity of the various colored beams of light, manipulating them to achieve the desired color spectrum. LED lighting is provided by three pieces of equipment. The most common are LED Pars, which imitate traditional stage lights and have a number of LEDs mounted onto them. Striplights, which are basically a long length of LED wash lights, are also very common, while the versatility of moving LED lights is also becoming an increasingly preferred option for many stage lighting technicians. Besides its higher light output and lower power consumption, LED lighting has a number of other advantages. One is that they have an exceptionally high heat tolerance, which means they can be used almost anywhere without worrying about them becoming damaged due to overheating. Another advantage of LED lighting is that it has a much longer shelf life than traditional lighting.