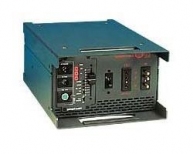 CD80 portable Dimmer packs are available for 120 volt systems and have offered solid reliability to users for over 10 years with thousands of systems in use.
Strand
Strand Lighting offers the world's most comprehensive and competitive range of luminaires, dimming equipment, control systems and software to answer the creative needs of lighting designers working in theatre, television, film, themed environments and sophisticated architectural applications. Strand Lighting History The Strand Electric Company began operating in 1914 to serve London's theater district. In 1926 Century Lighting opened for business in New York to serve Broadway. Today, Strand Lighting, the union of these two companies, continues as the world's leading name in stage, television, motion picture, and architectural lighting and services. Current Strand Lighting Operations Unique in the breadth of its operations, Strand Lighting now serves the world across three geographic regions. The European region, headquartered in the United Kingdom, has offices in Berlin, London, Moscow, Paris, and Rome and serves all of Europe, the Middle East, and Africa. The Americas region has its headquarters in Los Angeles and with offices in New York and Toronto serving the United States, Canada and Latin America. The Asia/Pacific region is supported from Strand Lighting's office in Hong Kong. Each region works closely with its local network of distributors to ensure the most extensive distribution of products and services in the entertainment lighting industry. Strand Lighting Products As the creative demands of entertainment lighting continue to expand, Strand Lighting has responded with a series of new product introductions demonstrating a commitment to providing lighting solutions matched to the scale and complexity of the application: the latest generation of software based control products ensure that as users' needs grow and new facilities are added, systems can be easily expanded to accommodate them, protecting the value of the original investment. Our new digital dimming systems bring enhanced flexibility and superior performance and value to all of our customers and our exciting range of Film, Television and Theatrical luminaires are the newest and most advanced in the industry. From the simplest to the most advanced, for theatrical, television, film or themed environments solutions will be found for all your applications within this catalogue.
Used Dimmer Rack Modules
A dimmer rack module is a small device that is used in professional lighting to adjust the brightness of a light fixture. It works by altering the voltage of electricity that is delivered to the lamp. When the dimmer rack module reduces this power, the brightness of the lamp will fade down (become dimmer). Alternatively, if the dimmer rack module increased the power, the lamp will fade up (become brighter). Interestingly enough, a dimmer rack module allows for minor color control as well. Although large dimmer racks are sometimes used, these are often replaced with a dimmer rack module, which is smaller and contains a 20 to 50 ampere breaker. The advantage of a dimmer rack module is that it can also supply current to other devices, such as foggers and hazers, or lifting equipment. This is important as these other devices can be damaged if you fail to use a dimmer rack module on non-dimming electrical devices. The circuit to which a dimmer rack module is connected to will be constantly energized, thus protecting these other devices. Even in cases where it is thought that a regular dimmer rack will always be operating at full power, it can be dangerous for non-dimming devices due to interruptions in the data stream caused by DMX signals and noise interference, which would lead to the dimmer dimming the circuit.
CD80 - CD80 Dimmer Modules
CD80 - CD80 lighting dimmer module STRAND 2.4kw c/w RAC
CD80 - Dimmer and Patch Bay Package
CD80 - CD80 Dimmer Modules
CD80 - Strand CD-80. 12 channels of 2.4kw each. Used on various rentals.
CD80 12 x 2.4k - Includes DMX interface
CD-80 - Strand-Century CD80 pack. 12 X 2.4k dimmer. With Johnson Systems PT-Pack, (3) CD-Pack and (3) retrof...
CD-80 Pack - Dimmer Pack with DMX upgraded (Johnston Systems)
CD80 24 x 12KW Dimmer - CD80 24 x 12KW Dimmer in good condition.
CD80 - 48 chan 2.4kW CD80sv
CD80 - 96 Channel Touring Rack