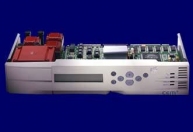 The new Control Electronics Module (CEM+) takes ETC's Sensor dimming to the next level. Now, with the added functionality of a network, and a graphic user interface, Sensor's strength has multiplied. Sensor has always meant great value for both traditional incandescent and mixed venues that have a need for both switched and dimmed circuits.

The Sensor+ Control Electronics Module (CEM+) receives and manages Ethernet control signals as well as two DMX512 inputs. It controls Dimmer output, and communicates status information to compatible lighting control devices and network peripherals.

The CEM+ also incorporates web server technologies for interaction with standard web browsers. Sensor+ Connect builds upon this capability to provide an easy-to-navigate, rich, graphical user interface for monitoring and control of Sensor systems. Simply put, a user can configure, monitor and control Sensor dimmers using a web browser such as Internet Explorer or Netscape Navigator from their Emphasis server, computer, or PDA device.

And current Sensor users, you can have CEM+ too!

ETC is committed to supporting customers over the long term. CEM+ works with any Sensor installation rack, Touring Rack or portable pack. Contact your dealer about upgrading!

Features
# Menu-driven interface with backlit 7-button keypad
# 2-line-by-20-character backlit LCD screen.
# Two DMX512 inputs, in addition to network connection
# 128 playback looks with programmable fadetimes can be recorded and activated from any networked computer device
# Open communication between devices through a central system, a central control location
# Simplifies design of network ammable fadetimes can be recorded and activated from any networked computer devi
# Fully-configurable with a range of patching and priority programming capabilities
# Custom login password to access basic or advanced configuration tools, simple testing or complex diagnostics, playback- only or full record capabilities.

Sensor+ Connect Features
# Graphical user interface (GUI) that duplicates all the functions of the CEM+
# Ability to monitor rack status, reconfigure Dimmer curves, record or activate presets networked co
# Configuration editor to create and edit group, rack, or specific Dimmer information
# Functions such as Dimmer check, Panic Activation, Individual Dimmer DMX patch, and File-transfer capabilities, including software upgrades
# AF features such as record and monitor individual Dimmer loads, as well as general Dimmer status

Ratings and Approvals
Sensor Control Electronics Modules (CEM+) are UL and cUL approved, and CE marked.
Electronic Theatre Controls
Since its founding by Fred Foster in 1975, ETC (Electronic Theatre Controls, Inc.) has become a global leader in award-winning entertainment and architectural lighting equipment. ETC's fixtures, lighting control consoles, dimmers and distribution products are the backbone of lighting systems in venues worldwide - from schools and churches, to community theaters and TV studios, to opera houses and theme parks. Over the first decade of its history, ETC earned a reputation for sophisticated microprocessor-based lighting control consoles. By 1990, ETC had acquired Lighting Methods, Inc., a Rochester, New York-based manufacturer of entertainment dimming systems. ETC quickly became one of the largest fully-integrated entertainment lighting control manufacturers in North America, with offices in Middleton, WI; Orlando, FL; Rochester, NY; and Hollywood, CA. The next phase of growth began in 1995, when ETC acquired the lighting control division of London-based distributor ARRI GB. That same year, ETC opened an office in Hong Kong, extending its expansion into Asia. In 1997, ETC opened an office in Copenhagen, Denmark, to serve the Northern European market, and a year later opened an office in Rome, allowing greater access to Southern Europe. ETC acquired Transtechnik Lichtsysteme, Holzkirchen, Germany in 2002, widening ETC's market potential in Europe. Continuing its growth, ETC took an equity position in Avab France in 2003. In 2004, ETC acquired Dutch sine wave dimming manufacturer IES and its industrial weighing and measuring division Penko Engineering BV, both located in Veenendaal, the Netherlands. Beginning March 31, 2005, all formerly separate operations of ETC in Europe joined under the common corporate banner of ETC. ETC's new international headquarters, located in Middleton, WI (near the state capital Madison) serve as hub of global administration and manufacturing. Through the years, ETC has gained an industry-wide reputation for outstanding service and customer support. ETC not only maintains in-house, 24-hour Technical and Customer Service staffs, but an extensive network of factory-trained, authorized field service centers.
Used Dimmer Rack Modules
A dimmer rack module is a small device that is used in professional lighting to adjust the brightness of a light fixture. It works by altering the voltage of electricity that is delivered to the lamp. When the dimmer rack module reduces this power, the brightness of the lamp will fade down (become dimmer). Alternatively, if the dimmer rack module increased the power, the lamp will fade up (become brighter). Interestingly enough, a dimmer rack module allows for minor color control as well. Although large dimmer racks are sometimes used, these are often replaced with a dimmer rack module, which is smaller and contains a 20 to 50 ampere breaker. The advantage of a dimmer rack module is that it can also supply current to other devices, such as foggers and hazers, or lifting equipment. This is important as these other devices can be damaged if you fail to use a dimmer rack module on non-dimming electrical devices. The circuit to which a dimmer rack module is connected to will be constantly energized, thus protecting these other devices. Even in cases where it is thought that a regular dimmer rack will always be operating at full power, it can be dangerous for non-dimming devices due to interruptions in the data stream caused by DMX signals and noise interference, which would lead to the dimmer dimming the circuit.