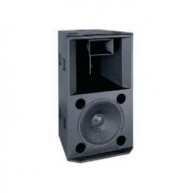 Driver Complement:
Low Frequency: One Apogee 15"(381mm) permanent magnet conetype
driver is treated with a waterproofing compound, providing
resistance to moisture, and enabling long-term stability of cone
resonance and cone mass parameters
Mid Frequency: One Apogee 10"(254mm) midrange cone driver is
treated with a waterproofing compound (SX only*)
High Frequency: One Apogee 1"(25mm) Compression Driver
tweeter is treated with Ferrofluid for greater power handling
capability, lower distortion, and control of short-term impedance rise
Compatible Processors:
DLC24 Digital Controller
Input Connectors:
Neutrik NL4MP Speakon connectors standard; Cannon EP series
and gas-tight barrier strips optional
Handles:
Ten handles designed as an integral part of the enclosure (no
moving parts)
Grille:
Powder-coated, diamond-punched steel with acoustic foam covering
Trim:
Optional protective steel pieces on top and bottom ends; powdercoated
for durability
Rigging Hardware:
Six 12-gauge steel nutplates, mounted three on top and three on
bottom, recessed, nominally flush; accepts 3/8"-16 thread (10mm
nutplate or Aeroquip Pan fittings optional); nutplates are backed
with 12-gauge steel internal brackets
Finish:
Textured high-strength black epoxy paint; other colors optional
Enclosure Type:
20 trapezoidal, fully horn-loaded, vented bass
Cabinet Construction:
Multi-ply birch with stainless steel fasteners
Concert
Loudspeaker System
Engineering Data:
Description:
Format:
Bi-amped/Three-way/Electronically-coupled
Dispersion:
H: 60 x V: 40
Frequency Response (1m on axis):
44 Hz to 17 kHz 3 dB
Max. SPL (@1m):
126 dB cont./132 dB peak
PTML (peak transient mechanical limit):
144 dB
Sensitivity (1W @ 1m):
LF: 98 dB/44 Hz to 300 Hz
MF & HF: 101.5 dB/300 Hz to 17 kHz
Nominal Impedance:
8 ohms, each driver
Max. Power Handling:
LF: 500W cont./1800W peak
MF: 300W cont./1200W peak
HF: 75W cont./300W peak
Dimensions:
front: 22"(559mm) W x 38"(965mm) H
rear: 15"(381mm) W x 38"(965mm) H
depth: 23"(584mm) D
Weight:
145 lb. (65.8 kg)
The AE-9 is a bi-amped, three-way
system offering exceptional power
handling, smooth frequency response,
and predictable directional control. It
can be easily positioned in spaces that
are too small for other horn-loaded
systems, and is fully arrayable.
AE-9
* SX weather treatment for harsh environments
Specifications subject to change without notice. 55-0027-01B 2006 Bogen Communications, Inc. 06/12
Polar Measurements AE-9 (6 dB/division, normalized) Frequency Response AE-9 (with controller)
20 50 100 200 500 1K 2K 5K 10K 20K
dB/
DIV
0 30
60
90
120
150 180 210
240
270
300
330 0 30
60
90
120
150 180 210
240
270
300
330 0 30
60
90
120
150 180 210
240
270
300
330
0 30
60
90
120
150 180 210
240
270
300
330 0 30
60
90
120
150 180 210
240
270
300
330 0 30
60
90
120
150 180 210
240
270
300
330
0 30
60
90
120
150 180 210
240
270
300
330 0 30
60
90
120
150 180 210
240
270
300
330 0 30
60
90
120
150 180 210
240
270
300
330
62.5 Hz 125 Hz 250 Hz
500 Hz 1,000 Hz 2,000 Hz
4,000 Hz 8,000 Hz 16,000 Hz
H
Measured in a free-field anechoic environment using a swept one-third octave input.
All polar measurements obtained in a freefield
environment at 10 increments.
Dimensional Drawings AE-9 (dimensions in inches and millimeters)
Processor Notes:
The DLC24 Digital Loudspeaker Controller is a digital engine with an analog
surface. It combines the most advanced technology available with intuitive
interfaces to provide the key Elements that ensure optimal loudspeaker
system performance and management in a variety of live sound and fixed
installation applications.
The controller provides factory-set equalization curves to smooth the
response, protective limiting, and active crossovers (for bi-amplified models
and subwoofers). 10 dB
Apogee
Apogee Sound was founded in 1985, with the highly-focused goal of manufacturing professional audio equipment to the finest possible professional standards. Beginning with professional loudspeakers for the sound reinforcement market, the company developed a family of 'processor-based' speakers, which offer significant advantages over other brands and types. The unique design integration of Apogee's special electronic processor with the loudspeaker enclosure and driver elements, is the key to the products' exceptional performance and wide acceptance. In 1989 Apogee developed its CORREQT â?¢ equalization system. CORREQT stands for Computer Optimized Room Resonant EQualization Technique, and is an advanced method of integrating a loudspeaker system into a room's acoustical environment, achieving results that surpasses ordinary methods of sound system balancing and equalization. It was used for seven consecutive years on the Grammy Awards and Oscar Awards, in addition to hundreds of other shows and installations. After achieving an excellent reputation and international acclaim with its loudspeaker products, the company expanded its product range into amplifiers for the touring and installation markets. It also added a specialized parametric equalizer to the line with features not found on any competitive models. In 1991 Apogee entered into a business relationship with LucasFilms taking on the task of manufacturing and marketing a LucasFilm THX professional monitoring system for the growing post production market. In 1993 Apogee developed its first studio monitoring system for music recording. Also in 1993, the company developed the world's first professional power amplifier designed from conception to be computer controlled, enabling remote monitoring and operation from a standard PC over simple twisted-pair wire. In 1995, Apogee won the 'Product of The Year' award from TCI magazine for the DA-Series of Digitally Controlled Power Amplifiers. In 1994 Apogee's AE-9 loudspeaker won the TEC Award from Mix Magazine for 'Transducer Product of The Year'. In 1998 Apogee won the EDDY Award for 'Product of the Year' for its new line of Linear Array Loudspeakers called the ALA-Series. In 1999, Apogee Sound International was acquired by Bogen Communications International, Inc. As an independent part of the larger company, Apogee will be able to focus its efforts on better serving its customers with professional audio products that exceed the highest expectations. The company's success in its endeavors is a direct result of the confidence of its clientele in the products and people of Apogee Sound. Consequently, Apogee products have been specified and used on many of the world's most visible events; a partial listing of which is attached. Apogee has long held a global outlook. In its first year it began exporting to Norway, Hong Kong, and Canada. Apogee currently has international distributors in more than 40 countries.
Used Cabinet Speakers
Find used speakers and used speaker cabinets from popular brands as JBL, Turbosound, EAW and more. All used speakers we carry are warrantied and in most cases inspected by factory certified technicians. Solaris sells and buys secondhand and used speaker cabinets for use in churches, clubs, theaters and other large events and shows. Call us if you don't find it and we will find it for you.