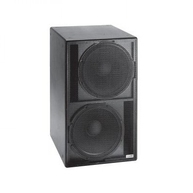 The SB products are EAW's premium subwoofers designed for
the most demanding professional applications. A broad range of
capabilities and sizes provide the designer with selections that
can be specifically matched to their application. Top quality
drivers, engineered by EAW, provide the highest output and best
sonic performance possible for a given form factor. All SB
models are direct radiating, with optimally tuned, vented
enclosures. SB subwoofers are the choice where the best sonic
performance, highest reliability, and most robust physical
construction are required.
The SB625zP is a high output, mid-size Subwoofer system. This
versatile, all-purpose Subwoofer is designed for permanent
installation where the solid-sounding output of dual 15 inch
drivers is desired. The SB625zP is engineered to complement
the KF600zP Series in flown arrays, but it also works well with
any full-range loudspeaker. Its applications include: large
houses of worship, large auditoriums/theaters, cinemas, and
dance clubs.
The SB625zP is designed to be used with today's sophisticated
digital signal processing to optimize the LF response. EAW's MX
Series processors are recommended for the required crossover
and equalization.
Eastern Acoustic Works
Eastern Acoustic Works (EAW) is the global leader in high-performance, professional loudspeaker system design and manufacture. Based in an historic mill complex in Whitinsville, Massachusetts, USA, EAW gives audio professionals a comprehensive tool kit that helps them deliver customized sound reinforcement solutions for venues and events around the world.
Used Subwoofer
Find used speaker subs and subwoofers from popular brands as JBL, Turbosound, EAW and more. All used speakers we carry are warrantied and in most cases inspected by factory certified technicians. Solaris sells and buys secondhand and used speaker subs for use in churches, clubs, theaters and other large events and shows. Call us if you don't find it and we will find it for you.