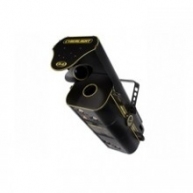 Cyberlight has followed its own formula as an original since 1994. Cyberlight, Cyberlight CX, Cyberlight SV, and Cyberlight Turbo have steadily grown in stature amid the world hierarchy of great lighting fixtures. With over twenty-one thousand fixtures sold, Cyberlight has proven itself the Ultimate Power Tool.

A legend is reborn and an entire segment is reinvented

The Cyberlight 2.0 returns to the scene as the only fixture in its class to offer the flexibility of a moving mirror as well as bold capabilities and stunning effects. With increased output, modern RDM and DMX control and addressing, updated software capabilities, as well as new Lithopatterns and effects, the Cyberlight 2.0 is revised while maintaining the legendary features and amazing reliability that made it a standard..

The Most Powerful Cyberlight Ever

Cyberlight 2.0 is a thoroughly modern piece of engineering that marries pure power with measured control. The 2000w MSR short arc lamp delivers over 30,000 lumens of output via a new electronic ballast tuned to provide electronic strobing and boost functions. Furthermore, the unit automatically reduces the current draw when the Dimmer is closed, resulting in increased energy efficiency and reduced heat generation.

The spirit of reinvention continues with an integrated LED menu system, 5-pin XLR connections, RDM capabilities, and an updated DMX protocol. Improved software capabilities means faster mirror movements without sacrificing smoothness and repeatability. The innovative TriColor effect that debuted with SHOWGUN is also now available for the first time ever in a moving mirror fixture. The legendary Cyberlight Lithopatterns and effects have been updated to provide fresh, creative imagery.

Beautifully crafted with an emphasis on quality, precision, and refinement, the Cyberlight 2.0 packs serious muscle by continuing the established feature set that has been used on thousands of productions. Remotely variable focus and zoom, motorized iris, variable frost and smooth dimming provide limitless beam capabilities. The color system consists of CMY color mixing and an eight position fixed color wheel while many images are available via the eight position Litho wheel and four position rotating Litho wheel. In addition, the unique eight position effects wheel provides amazing imagery, prisms, lens options, and more. Combine these features with the technological updates and it is easy to see how the Cyberlight 2.0 continues to provide unlimited possibilities on any stage.
High End Systems
From Ani di Franco to ZZ Top concerts. From Super Bowl half time to popular music award shows. From trade shows and talk shows to Olympic ceremonies or church sanctuaries. At High End Systems Inc., we innovate and create the lighting products and control systems that illuminate some of the world's biggest artists on the largest stages, as well as film and television sets, cruise ships, theme parks, restaurants and retail spaces. Now entering our fourth decade, we're one of the world's largest entertainment lighting manufacturers, a pioneer in new digital lighting technology and producer of the industry-preferred lighting controller technology. We attribute our success to staying in touch with the needs of the entertainment lighting community. Product research and development at our Austin, TX headquarters is an ongoing collaboration between in-house engineers and lighting designers in the field. This collaboration is largely to thank for our status as a major industry innovator and intellectual property holder. We're not only keeping pace with industry developments - we're guiding them. We're constantly pushing the creative and technological envelope to meet customer needs and stay ahead of the curve. As members of the entertainment community, we know reliability is paramount. We maintain rigorous manufacturing standards, while providing industry-leading customer support services.
Used Moving Mirror Scanners
Moving Mirror Scanners are often used for club lighting, as well as for stage lighting, and are quite similar in concept to moving lights in that they offer increased versatility and can be used to create more complex special effects than conventional stage lights. Scanners have actually been around for years '?? indeed, they were the first ever kind of moving lights, preceding the more popular intelligent lights that are now used today. The main different between moving mirror light scanners is that, unlike more modern moving lights that have mechanical light fixtures, scanners rely on '??mirrors that move'?Ě to direct the light beam, rather than moving light components. The fixture of the scanning head light doesn'??t actually move by itself. Rather, it contains a built in mirror fixed to a pivot point that moves around and directs the beam of light which is focused onto it. Much like a moving lights, scanners or club lighting can be pre-programmed before a production so that the operator doesn'??t have to control the light through the duration of the show, though of course some skilled operators prefer to operate the lights manually, during the performance, if they have the experience to do so. Scanners are available in a wide range of different sizes, and offer many different types of features to lighting technicians. Features include high-resolution stepping, high-resolution glass gobos with indexing and rotation, color mixing, mechanical dimming, remote focus, electronic strobing and many more.