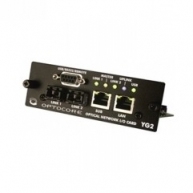 CONCEPTION. The main card YG2 includes the "heart of Optocore" allowing direct connection of Yamaha consoles to the Optocore OPTICAL DIGITAL NETWORK SYSTEM. According to the Yamaha miniYGDAI standard, the YG2 features 16In/16Out audio channels through the console slot. The front panel offers two fibre connections, 10/100MBit Ethernet transport, RS232/USB for Optocore Software and 2x RS422 for transporting of Yamaha Remote Protocol to AD8HR. Additional daughter boards YS2 can be connected via CAT5 Cables using the RJ45 "SUB" port, to enlarge the number of audio channel up to 64In/64Out (32In/32Out @ 96kHz).
To the fibre ports any Optocore device can be connected, e.g. another YG2 miniYGDAI card for consoles link or DD32(E) to connect A/D and D/A converters. The DD32(E) is equipped with RS422 In/Out for the Yamaha Remote Port connection.
Yamaha
Since 1887, when it began producing reed organs, the Yamaha Corporation in Japan (then Nippon Gakki Co., Ltd.) has grown to become the world's largest manufacturer of a full line of musical instruments, and a leading producer of audio/visual products, semiconductors and other computer related products, sporting goods, home appliances and furniture, specialty metals, machine tools, and industrial robots. Yamaha now owns 59 subsidiaries and affiliates in overseas markets in addition to numerous related companies in Japan. Additionally, Yamaha owns and runs its unique resort facilities throughout Japan so as to enhance our customers' leisure and cultural activities. Also, Yamaha provides a place for studying music, sets opportunities for presenting one's own compositions, and creates an environment for the enjoyment of a variety of musical endeavors. Since Yamaha Music Foundation was established in 1966, it has generated a wide range of music activities throughout global society, including Yamaha music schools, and the Junior Original Concert. Strong commitment to promote and support music education and popularization is one of the most significant elements to distinguish Yamaha from its competitors. Yamaha has endeavored to produce products and services that satisfy the diverse needs and desires of people worldwide. Its products and services are recognized the world over for superior quality in acoustics, design, technology, craftsmanship, and customer oriented services. These products and services under the brand name of Yamaha are highly regarded by a large number of professionals, institutions, business people within the related industries, and consumers. Our corporate philosophies are embedded in our customer oriented management and operations; providing excellence in our products and services; continuous efforts to expand our existing market and create new markets; enhancement of research and development on a long range perspective; commitment to care for end users through providing even better service after sale; pursuit of further globalization of Yamaha's business; fostering positive growth through diversification. Yamaha's very basic corporate objective is reflected in everything that it does, which is to contribute to the enrichment of the quality of lives for people around the world.
Used Effects and Multi FX
Effects and Multi FX devices are devices that used in audio recording to alter the sound of audio sources like musical instruments by employing a range of digital sound effects. Also called a DSP Processor, Effects and Multi FX devices can alter audio sounds in a variety of different ways, and these changes can be either extremely subtle or hugely dramatic, depending on the type of digital effects unit which is used. A Multi Effects processor can be used in both sound recordings or live during a performance. Effects and Multi FX can be employed to great effect with a wide variety of musical instruments, although they are most often paired with electronic instruments such as keyboards, bass and electric guitars. Musicians and sound engineers use Multi FX devices such as fuzzboxes and wah-wah pedals to create a class of seven different sound effects, including Distortion, which clips the audio signal of an instrument, distorting the form of its sound waves and also adding overtones. Other sound effects which can be achieved by an effects processor include Dynamics, which simply boost the volume level, Filter, which is applied to alter an audio signalâ??s frequency, and Audio Feedback, which was pioneered by the legendary Jimi Hendrix. Effects and Multi FX processors are also used to create sounds that have irregular tonal properties, an effect known as modulation, and can also modify the Pitch of an audio signal. Lastly, an FX processor can also add time-based effects, such as delays or echoes.