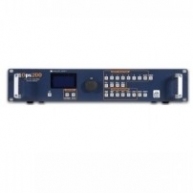 OPS200 at a glance:
> Up to 3 Live Sources on Screen
> 11 inputs allowing a wide variety of source types, both Analog and Digital
> High Resolution I/O of up to 2K
> Smooth Move transitions to enhance your presentation

11 Inputs
2 DVI Inputs
7 Universal Analog Inputs
2 x 3G/HD/SD-SDI
SDTV, EDTV, HDTV and Computer formats up to 2K
Full digital In/Out Processing

Outputs
2 Analog and Digital Outputs: Main & Preview
Computer Formats up to 2K
RGBHV and DVI

Operation Modes & Effects
1 Operation Mode: Mixer
2 PIPs on Live Background
3 PIPs on Background Frame
7 Full Frames, 7 Logo Memories
PIP: Pan & Zoom resizing up to 1000%
PIP Open/Close Animation
Transitions: Fade (Dissolve), Cut, Wipe, Slide
Dynamic PIP (Moving from A to B)
PIP Border (Edge: 1 Color, 1 Width)
Smooth Move effect
Chroma/Luma Key/DSK Title
DSK on Analog & Digital Inputs
Analog Way
Analog Way is a leading designer and manufacturer of innovative image converters. Analog Way was founded in 1989 by Pierre Berthet and Marc Loret, two pioneers in the computer to video scan conversion technology field. The company headquarters is located in Paris, France. Our Research & Development, Design, Engineering, Manufacturing, Sales and Marketing operations are performed in Paris, France. In addition, Analog Way includes two wholly owned subsidiaries, in New York and Singapore. Our New-York office started its operations in September 1998 and an office on the American West Coast was also opened in 2004. The Singapore office started its operations in 2002.
Used Effects and Multi FX
Effects and Multi FX devices are devices that used in audio recording to alter the sound of audio sources like musical instruments by employing a range of digital sound effects. Also called a DSP Processor, Effects and Multi FX devices can alter audio sounds in a variety of different ways, and these changes can be either extremely subtle or hugely dramatic, depending on the type of digital effects unit which is used. A Multi Effects processor can be used in both sound recordings or live during a performance. Effects and Multi FX can be employed to great effect with a wide variety of musical instruments, although they are most often paired with electronic instruments such as keyboards, bass and electric guitars. Musicians and sound engineers use Multi FX devices such as fuzzboxes and wah-wah pedals to create a class of seven different sound effects, including Distortion, which clips the audio signal of an instrument, distorting the form of its sound waves and also adding overtones. Other sound effects which can be achieved by an effects processor include Dynamics, which simply boost the volume level, Filter, which is applied to alter an audio signalâ??s frequency, and Audio Feedback, which was pioneered by the legendary Jimi Hendrix. Effects and Multi FX processors are also used to create sounds that have irregular tonal properties, an effect known as modulation, and can also modify the Pitch of an audio signal. Lastly, an FX processor can also add time-based effects, such as delays or echoes.