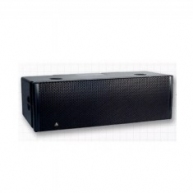 The Y-18 is a high power, 3 way line array featuring two patented Adamson mid/high drive modules. The Adamson drive module has a co-axial entrance and a co-linear exit comprised of a high frequency sound chamber mounted within a mid frequency sound chamber. The drive module is powered by a proprietary 9" Kevlar mid and a JBL 2451 Compression Driver. Together, the drive module and trapezoidal cabinet design create a smooth, slightly curved, seamless wave front with no gaps between cabinets.

The Y-Axis has a defined coverage pattern of 100 degrees by 5 degrees at -3db down. The vertical coverage is determined by the number of cabinets added to the array. The Y-Axis comes complete with a sliding hinge rigging system with six one-degree increments you can achieve precise angular positioning by adjusting the extension of the sliding hinge while the front of the array remains closed.

Light aluminum dollies, and all the components for rigging the Y-Axis come standard. Aluminum rigging frames to support 16 or 24 Y-Axis are available as optional accessories.

Applications

Live Concert Reproduction
Theaters
Houses of Worship
Large Clubs

Features

Two Adamson AW18 18 Kevlar LF Drivers
Two JBL 2451 HF Drivers
Two Adamson Co-Linear Drive Modules
Two Adamson YX9 9" Kevlar Neodymium MF Drivers
Aluminum Dolly Board
Stainless/Aluminum Slide Hinge Rigging
Adamson Systems Engineering
Brock Adamson's passion for sound has driven the evolution of Adamson Systems Engineering from a small speaker shop to a company invested in its own factory, with a broad engineering base and a wide range of computer controlled manufacturing machinery. Now Adamson is recognized as the most advanced manufacturer of loudspeaker systems in the industry. A versatile range of products - from the highly acclaimed Y-Axis and SpekTrix true line source arrays to the SX and MH Series of conventional loudspeakers - has equated the Adamson brand name around the world with excellence and distinction.
Used Line Array Speakers
Find used line array speakers and line array elements from such popular brands as L-Acoustics, d&b audiotechnik, Meyer Sound and Nexo. All used line array speakers are warrantied and in most cases inspected by factory certified technicians. Solaris sells and buys secondhand and used line arrays for large concerts, tours, stadiums and auditoriums. Call us if you don't find it and we will find it for you.
Y18 Package - Y18 and T21 system with Lab Gruppen PLM in great condition.
Y18 - Used on various rentals but always cleaned and tested.
Y18 Package - Less than 20 gigs on this complete package. Comes with covers, dollies and fly-bars.
Y18 - Kept in a clean warehouse. T21 also available at an additional cost. Will ship factory tested.
Y18 Package with T21 - Package of (16) Y18, (6) T21 with fly frames in great condition.
Y18 - Complete Y18 System with amps in good condition.
Y18 - Package of (8) Y18 with dollies and (2) Y18TF with flight cases.
Y18 - Used on various rentals. Comes with covers and a wheel cart.