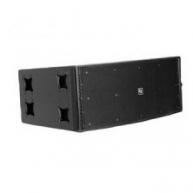 Development of the new EV X-Line? system was driven by the need for a high-level concert touring enclosure that combines the sonic impact and vocal intelligibility of the renowned X-Array? system with the uniform, predictable coverage that only a line-array configuration can deliver. The EV engineering team set out to develop the next generation of line-array systems, combining their years of experience in the development of X-Array? with the absolute latest state-of-the-art technologies. As a matter of course, X-Line? features the essential acoustical advantage of RMD?.

The X-Line? system was designed to provide wide horizontal dispersion (90 degrees) from a single vertical line array while providing exceptionally coherent wavefront summing in the vertical plane. At the heart of X-Line? is a proprietary high-frequency wavefront alignment and summation device - the Hydra? -- that provides Planar and time-coherent signal addition. The broad bandwidth vertical Planar summing provides uniform sound field distribution throughout the listening area.

Stereo imaging is improved by the X-Line's full-bandwidth mid-bass loading. Extended low-frequency polar control produces more uniform power response, further enhancing overall system intelligibility. The overall power response of the X-Line? is very uniform across a wide frequency spectrum, thus enabling the system's very musical sonic character.

High-output, 2000 watt, 3-way LF/MB/HF linear array technologysystem, 5deg trapezoidal cabinet design for the lower "J" section of the linear array, typically for medium throw assignment l 120deg horizontal coverage, approximate 8deg vertical coverage angle l HF section comprised of 3 neodymium ND5A HF compression drivers, dual 8-in. neodymium ND08 MB woofers mounted on a wide midbass horn, and dual 15-in. EVX 155RMDDP (plate) LF woofers l New EV Hydra? time synchronized HF vertical plane wave generator provides excellent far-field summing. HF section is asymmetrically loaded providing flexibility to configure systems with HF placed on or off stage l Ring Mode Decoupling (RMD) provides level independent fidelity, greater mid bass clarity and high frequency accuracy l New proprietary rigging allows for rapid Venue load-in and load-out, linking hardware included l One of four application specific X-Line? models
Electro-Voice
Electro-Voice Prominent maker of microphones; also loudspeaker systems, amplifiers.
Used Line Array Speakers
Find used line array speakers and line array elements from such popular brands as L-Acoustics, d&b audiotechnik, Meyer Sound and Nexo. All used line array speakers are warrantied and in most cases inspected by factory certified technicians. Solaris sells and buys secondhand and used line arrays for large concerts, tours, stadiums and auditoriums. Call us if you don't find it and we will find it for you.