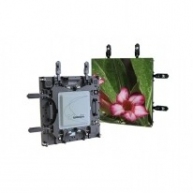 The X-Vision Touring is the fruit of many years of

experience with LED display products. We started off Voltage input 120-240VAC 50-60Hz auto.

with a list of requirements based on our customers'

feedback and experience with previous products, like Power consumption 225 watts

fast and safe rigging, interchangeability between

modules regardless of pixel pitch, color consistency

and fidelity, high brightness, easy field maintenance Mechanical

access, IP65 rating all-around, Smart Power and data

connections, silent yet powerful cooling system, and

many more. Rigging safety factor 1:10 2

1

0

2



Dimensions 512x512x80mm (20"x20"x3.5") 7.

What we ended up with is a completely new standard .

c

n

in LED video systems that is already raising the bar all Weight 12.5 kg (27.4 lbs) i

s

e

across the industry in every aspects. Combined with i

g

o

our well-renowned customer service and the widest Cooling Active (two fixed-speed fans) l

o

n

dealer and rental network in Canada, the X-Vision is h

c

e

shaping up as the only logical choice in terms of LED Frame construction Die-cast aluminium T

x

x

video systems, be it the touring or commercial i

r

t

markets. Protection rating IP45 (Indoor use only) a


Theatrixx
Theatrixx Technologies distributes and manufactures technical equipment to suit the needs of the performing arts industry. Theatrixx Technologies' product lines are carefully selected based on our rigorous criteria with regards to safety, reliability, sturdiness, quality of construction and manufacturers' solid reputation. Theatrixx Technologies designs custom equipment that offers solutions to the lighting, audio, power and cabling challenges. Our in-house designers have extensive experience and understanding of the specific needs of the event business. They create innovative devices and systems that meet the highest standards and are built to withstand the daily hazards of life on the road and demanding installations. All products meet or exceed UL and CSA standards. In addition, Theatrixx Technologies works in collaboration with its clients to develop solutions to their specific needs, producing prototypes and delivering a finished product within time sensitive schedule and on budget. Theatrixx Technologies; A key member of your Video, Lighting, Audio and Stage Design Team.
Used LED Video Screens
LED Screens are used in concerts to produce a video wall or concert video screen, so that the musicians and performers can be shown close up, and also for displaying background visuals during a performance. This type of visual display system is essentially a large number of LED screens which are tiled together or overlapped in a way so that they produce a much larger screen. Also called a video tile, LED screens will have extremely narrow bezels (the part which surrounds the LED screens), so that the display is not impacted too badly by having large gaps appear between each tile. Many concert planners prefer using LED screens to one large screen as they offer a number of advantages, including a customized layout, greater pixel density and a greater screen area for the cost, as manufacturing unusually large screens can be prohibitively expensive. LED screens use something called light-emitting diodes to illuminate the video screen. Two different types of panel are used in LED screens â?? discrete LEDs and surface mounted panels. Most types of outdoor LED video screen and indoor LED video screen use discrete LEDs, which are made up of a cluster of blue, green and red diodes. This cluster of diodes forms just one pixel in the LED screen, and so many hundreds of diodes are used, with the pixels being spaced out evenly across the entire screen. This combination of color clusters enables every color in the light spectrum to be replicated on LED screens.