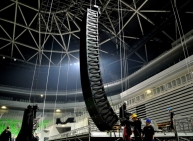 An upgrade option for the world-standard XLC127+ midsize line array, the DVX woofer offers greater high-SPL stability and full-bandwidth intelligibility than its esteemed predecessor. Tour Grade is the latest generation of flagship amplifiers from EV, offering remarkable audio quality in a lightweight package, with unsurpassed performance protection features and full Remote Control via IRIS-Net software. An XLC-DVX/TG rig offers unprecedented punch for the pound, as David Maier and Tim Woodworth of Intellasound report:

??We just completed our DVX upgrades, having had great success with our XLC127+ last year, and there??s definitely a noticeable difference; the boxes are noticeably warmer, with better all-round performance. We probably had the first Tour Grade amps in the country back in July, and they are proving to be an incredible workhorse amp across the board-the headroom and sonic performance we??re getting out of our TG-7 amps is exceptional. We have just received the RCM-26 DSP modules and are looking forward to incorporating them with IRIS-Net later this month.??

To see two hangs of 12 XLC-DVX in an 8,000-seat Venue like Alliant Energy Coliseum, one could be forgiven for any reservations regarding coverage and clout. But high performance with a tidy footprint is what this system is all about:

??Our clients were pleasantly surprised at the performance of the rig-the XLC line has always delivered, but the DVX takes it to a whole new level,added Woodworth. ??We loaded in at 8am; the band loaded in at 9, and we fired the rig up at 11.30. We flew 12 a side and turned them on with no EQ. One of the touring engineers came over to look at what kind of EQ settings we were using. He said ??Wow, you haven??t even touched them yet!This was the first time we??ve deployed all our 24 boxes in this Venue; we were obviously a little tentative-this rig looks pretty small in this room. But all apprehension was allayed as soon as we fired these boxes up. Sound quality is built-in to the XLC. We had pretty much covered an Arena from head to toe with a PA that rolled in on six carts and four Amp Racks-it doesn??t get any better than that!??
Electro-Voice
Electro-Voice Prominent maker of microphones; also loudspeaker systems, amplifiers.
Used Line Array Speakers
Find used line array speakers and line array elements from such popular brands as L-Acoustics, d&b audiotechnik, Meyer Sound and Nexo. All used line array speakers are warrantied and in most cases inspected by factory certified technicians. Solaris sells and buys secondhand and used line arrays for large concerts, tours, stadiums and auditoriums. Call us if you don't find it and we will find it for you.
XLC-127DVX - XLC-127DVX Turnkey system in excellent condition.
XLC-127+ - XLC-127DVX in good condition. Previously used on rentals.
XLC-127DVX - Package of (16) XLC-127DVX with dollies and covers in great condition.
XLC-DVX Package - XLC-DVX package including (16) XLC-DVX, (4) bumpers, (4) dollies, and (2) amps racks.