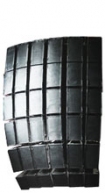 X-Array traditional horizontal array systems provide world class performance and flexibility for the ultimate in concert touring reinforcement.
Electro-Voice
Electro-Voice Prominent maker of microphones; also loudspeaker systems, amplifiers.
Used Line Array Speakers
Find used line array speakers and line array elements from such popular brands as L-Acoustics, d&b audiotechnik, Meyer Sound and Nexo. All used line array speakers are warrantied and in most cases inspected by factory certified technicians. Solaris sells and buys secondhand and used line arrays for large concerts, tours, stadiums and auditoriums. Call us if you don't find it and we will find it for you.
X-Array Package - Complete X-array package including (3) Amp rack with (4) EV-P3000 and (1) EV - Merlin.