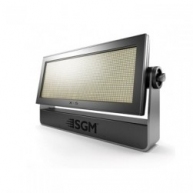 SGM has introduced two revolutionary new LED strobes designed to deliver the same output as conventional strobes from one fifth of the power.

Experience the extreme luminous output of nearly 3,000 pure white LEDs placed into three individually controllable LED segments. The X-5 makes it possible to create unique effects never delivered before by a Strobe.
The X-5 is a lightweight, compact and ultra-high performance LED Strobe with an exceptionally low power consumption of only 4 Amps. The X-5 is a robust, state of the art LED fixture providing an alternative to traditional, expensive and fragile Xenon lamps.

As with all SGMs new LED models, cooling methods have been improved via rectangular heat-sinks, set-up and address procedures improved with the aid of internal diagnostics, and control procedures implemented to ensure that lamps run flicker-free.
SGM
For over 25 years, SGM has been a key international player in the development of 'intelligent' entertainment lighting systems. Its success is based on its strong business vocation, its great interest in innovation and its staff's enthusiasm. But above all, its choices. Setting up a Research & Development Centre equipped with the very latest mechanical, electronic and optical processing software, where its technology is designed in-house. Managing the entire manufacturing process directly, using machinery and control systems of the latest generation. Being 'in the field' worldwide alongside lighting designers, rental firms and installers with its technicians and its sales network, listening to their needs and offering responses made up of concrete solutions and avant-garde products: products with a 'personality' and unique characteristics. This is why moving head fixtures, scanners, follow spots, colour-changers, lighting control consoles, dimmers, strobe lights and smoke machines with the SGM logo are equally at home on top show events, at concerts or in theatres and television studios. SGM faces 21st century technical and commercial competition as a protagonist, convinced of its present and certain of its future. Because SGM's future consists in cutting edge proprietary technology, an innovative approach to product features and great passion for a fascinating job.
Used Strobe Lights
Find used strobe lights in well maintained condition from such popular brands as High End Systems, Martin Professional and more. All used lighting consoles come with warranty and many have been certified by factory technicians. Solaris sells and buys secondhand and used strobe lights for touring production, churches, theaters, film, television and more. Call us if you don't find it and we will find it for you.