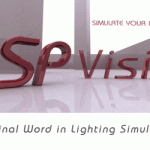 ESP Vision
December 15th, 2011
ESP Vision is the most technologically advanced lighting pre-visualization software available on the Planet. Any lighting project will benefit from ESP Vision's real-time capabilities, giving the lighting designer the tools necessary to pre-program the show before arriving at the venue. This process will reduce stress, on-site time, and production costs while nurturing creativity.
Creating a lighting model is a SNAP with ESP's custom lighting plugins. Each purpose-built plugin is designed to streamline the modeling process. While each fixture's standard personality traits are assumed, the plugins also allow the end-user to customize colors, Gobos, lenses, lamps, or any other variable of the fixture.
All fixture functions, such as gobo and color wheel Rolls, prism effects, beam angles, head speeds, gobo and color wheel rotation speeds and beam photometric data have been carefully reviewed for accuracy. Each library item is also reality-checked against the actual fixture.Vision supports moving and conventional lighting fixtures, pyro effects, water effects, and smoke/fog effects. ESP Vision is also the first visualizer to create real-time shadows on surfaces and in the air.
Users control ESP Vision via offline editors (such as HogPC), SandNet, or any other DMX-512 console. ESP Vision's scaleable license structure allows users to purchase the number of universes needed today and expand later, as requirements dictate.