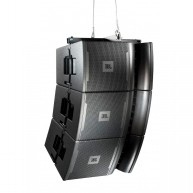 The VRX932LA is a light-weight compact 12" two-way line array speaker system designed for use in arrays of up to six units. VRX932LA is the ideal choice when line array performance is needed but the
Venue size doesn't call for the very
long-throw characteristics of larger line
arrays such as JBL's VerTec. The Constant Curvature waveguide mounts three compression drivers on a continuous arc. When additional
VRX932LA speakers are added to the
array the uninterrupted arc continues.
In effect, all the drivers work together
as if they were a single driver on a
very long waveguide. Since there are
three drivers in each VRX932LA, the
combined power handling and acoustic
output of the system is far greater than
a single driver could achieve. VRX932LA uses ??amplitude shading to shape the coverage of the array. Switches on the input plate allow, for example, the upper box in an array to reach a distant balcony while the lower HF section is shaded back to reduce excessive level at the front of the listening area. One or two VRX932LAs may also be used on a tripod or over subwoofers. The integral Rigging Hardware is used to securely lock the array together while the dual-angle pole socket provides aiming flexibility. As many as six VRX932LA speaker systems may be suspended in a single array for a nominal vertical coverage of up to 90deg. Suspended applications require the JBL VRX-AF array frame. For applications in
which the array must be aimed sharply down, a second array frame may be
installed to the bottom of the array serving as a pull-back. The VRX932LA was designed with SRX700 series compatibility in mind. VRX918S subwoofers are the ideal choice for a ground-stacked or flown VRX932LA system.
JBL
James Bullough Lansing was born James Martini, 14 January 1902, in Macoupin County, Millwood Township, Illinois. His parents were Henry Martini, born in St. Louis, Missouri, and Grace Erbs Martini, born in Central City, Illinois. The elder Martini was a coal mining engineer, and his work required that the family moved about quite a bit during Lansing's early years. Lansing was the ninth of fourteen children, one of whom died in infancy. For a short time, Lansing lived with the Bullough family in Litchfield, Illinois. He later took their name when he changed his from Martini to Lansing. Not much is known about Lansing's early days, and we are indebted to Bill Martin, one of three surviving brothers, for providing most of the information presented here. Lansing graduated the eighth grade at the Lawrence School in Springfield, Illinois. He also attended the Springfield, Illinois, High School. Later, he took courses in a small business college in Springfield. As a young lad he was very interested in all things electrical and mechanical. At about the age of 10, he built a Leyden Jar which he used to play pranks on his playmates. He also constructed crystal sets, and at one time, probably about the age of 12 or so, built a small radio transmitter from scratch. The signals from this set were apparently strong enough to reach the Great Lakes Naval Station in Illinois; naval personnel determined the source of these signals and later supervised the timely dismantling of the young Lansing's radio transmitter. For a while Lansing worked as an automotive mechanic, specializing in fine engine repair work. He attended an automotive school for mechanics in Detroit through the courtesy of the dealer he worked for in Springfield. Lansing's mother died 1 November 1924 at the age of 56, and at that time Lansing left home. As best we can determine, he went directly to Salt Lake City. Mrs. Lansing, the former Glenna Peterson of Salt Lake City, tells of meeting Lansing in 1925 in that city. At the time he was working for a radio station as an engineer. In addition, he worked for the Baldwin loudspeaker company in Salt Lake City for a time. He also met his future business partner, Ken Decker, in Salt Lake City.
Used Line Array Speakers
Find used line array speakers and line array elements from such popular brands as L-Acoustics, d&b audiotechnik, Meyer Sound and Nexo. All used line array speakers are warrantied and in most cases inspected by factory certified technicians. Solaris sells and buys secondhand and used line arrays for large concerts, tours, stadiums and auditoriums. Call us if you don't find it and we will find it for you.
VRX932LA - Package of (6) VRX932LA with (3) Dual flight cases in great condition, previously used in rentals.
VRX932LA - Package of (8) VRX932LA in good condition. Previously used in a church installation.
VRX932LA Package - Package of (14) JBL VRX 932LA and (5) triple cases.
VRX932LA - Used on various rentals. Comes with a 10 day warranty.
VRX932LA - VRX932LA in great condition. Minimum purchase of two units. Priced per unit.
VRX932LA - Unit in great condition. 12 inch + 3 X 1 inch High Frequency diaphragm.
VRX932LA - Comes with a 30 day warranty. Demo unit. In original cardboard. Church install from 2009. 30 day war...
VRX932LA - VRX932LA in excellent condition.