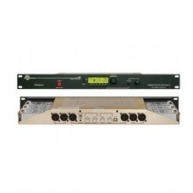 Ultra portable and self-contained
Six channel modular confi guration
NP1 style battery or external DC power
Digital Hybrid Wireless for compandor-free audio
3 different diversity reception schemes
Compatibility modes for use with analog transmitters
USB and RS-232 computer interface for control and
programming with included software
Front-panel headphone jack for monitoring
VRS (Standard) and VRT (Tracking) receiver modules
available
Lectrosonics
Founded in 1971, Lectrosonics started out as an audio company by making amplified lectern systems. Throughout the 1970s and 1980s, the company concentrated on portable instrument and voice amplification, developing the MaxiMouse┬« and Long Ranger┬«, products well known for their quality and reliability.Wireless microphone development began at Lectrosonics in earnest during the late Ô??80s, and by the mid-1990s, nearly every major motion picture, most television productions and news broadcasting relied on Lectrosonics wireless systems. The company was first to market with many innovations, and is known in several industries as the undisputed leader in wireless audio technology. At the 2004 Academy Awards, the top five picture nominees and the top two winners, including Lord of the Rings, used Lectrosonics wireless microphone systems for film production. At the same time, Lectrosonics continued creating innovative products for theaters, corporate boardrooms and multimedia production.
Used Wireless Communication System
Wireless communication systems help individuals transfer important info amongst two or more points without actually being connected to each other. There devices such as a wireless headset and wireless receiver are long range communicating apparatuses that would be impossible to use with wires. Situations where the use of a wireless communication system is crucial are to link several transportable impermanent work areas, digitally connect users to networks, and backup a wireless communication network in case it fails. The distance between one wireless comm system device and another one can be as little as a few metres or as far as a millions of kilometres. Some examples of how these devices are often used are as two-way radios, remote control devices and modulated laser light systems. A wireless transmitter works with other wireless communication system devices by using radio frequencies, infrared communication and antennas to transfer information to a wireless receiver, which will then signal a device what to do. The wireless communication system differs in local coverage and availability. Some signals and satellites may not be able to provide you signal in certain areas. Therefore the performance and range of a wireless communication system should be thoroughly tested being used. Besides using no cords and wires, the majority of wireless communication instruments use point-to-point, broadcasting, wireless networks and cellular networks to receive and transfer info.