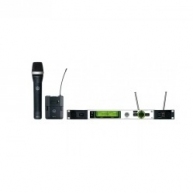 or theater, conference, live-production and tour-sound applications
AKG's revolutionary DMS700 V2, the reference digital wireless microphone system, is designed to deliver premium digital audio quality and quick-and-easy operation. With a bandwidth of up to 155MHz, the transmitters and receiver give the user the necessary flexibility for even the most crowded radio environment.

The state-of-the-art 512-bit audio encryption offers the highest security available for courtroom, boardroom and other confidential meeting environments. An optional network Remote Control allows frequency coordination and monitoring of multichannel systems by PC software System Architect™, Apple iPhone/iPad/iPod or Soundcraft Vi consoles. For easy configuration of large systems, all components are available individually.
Up to 40 channels for simultaneous use
high-end antenna system and multichannel accessories available

HiQnet network Remote Control and monitoring
from PC via Harman System Architect™ software, Apple iPhone/iPad/iPod or Soundcraft Vi consoles
Digital wireless audio transmission
eliminates any distortion and significant noise level
155MHz ultrawide frequency range
ideal for worldwide touring in frequency-crowded environments
512-bit encryption
state-of-the-art protection for sensitive audio information
AKG Acoustics
AKG stands for "Akustische u. Kino-Geraete Gesellschaft m.b.H." (i.e. Acoustic and Cinema Equipment). In 1997 the name changed into AKG Acoustics GmbH.. AKG Acoustics is widely recognized as the most innovative manufacturer of microphones, wireless systems and headphones in the world. Since its founding in Vienna, Austria in 1947, the company has been granted over 1,500 patentsā??more than all of its competitors combined.
Used Wireless Communication System
Wireless communication systems help individuals transfer important info amongst two or more points without actually being connected to each other. There devices such as a wireless headset and wireless receiver are long range communicating apparatuses that would be impossible to use with wires. Situations where the use of a wireless communication system is crucial are to link several transportable impermanent work areas, digitally connect users to networks, and backup a wireless communication network in case it fails. The distance between one wireless comm system device and another one can be as little as a few metres or as far as a millions of kilometres. Some examples of how these devices are often used are as two-way radios, remote control devices and modulated laser light systems. A wireless transmitter works with other wireless communication system devices by using radio frequencies, infrared communication and antennas to transfer information to a wireless receiver, which will then signal a device what to do. The wireless communication system differs in local coverage and availability. Some signals and satellites may not be able to provide you signal in certain areas. Therefore the performance and range of a wireless communication system should be thoroughly tested being used. Besides using no cords and wires, the majority of wireless communication instruments use point-to-point, broadcasting, wireless networks and cellular networks to receive and transfer info.