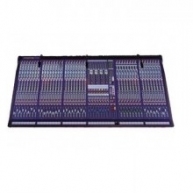 Verona is, quite simply, the desk the industry has been asking Midas for.

It takes the concept of the ultra-compact Venice, Midas' best selling console of all time, and elevates it to the next level. Verona delivers more inputs, more features, along with legendary Midas quality in a package that revolutionises the 8 buss market. Visually, the console looks stunning; despite it's physically modest proportions, it feels like a full-sized Midas to work on; and of course, most importantly of all, it sounds as good as it looks.

So what exactly is Verona?

Firstly, it's a truly professional desk aimed squarely at the professional market. Mechanically and electronically Verona is much more than just another 8-bus console. If you are primarily motivated by audio quality, rigid mechanical construction, long-term reliability and high residual values, then it is THE 8-buss console.

The Verona series consists of 6 models ranging from 24 up to a massive 64 inputs, and incorporates all the features and components that make it look, sound and feel like a true Midas. It has been designed from the ground up by the same team responsible for the XL4 and the Heritage Series consoles, including the industry-standard Heritage 3000.

Anyone who has ever bought a Venice and loved it is going to be captivated by the Verona you get more inputs, more features and that all-important Midas quality. Available as an install or touring package the Verona will handle anything from houses of worship to broadcast / Recording, theatre to corporate applications, and of course concert sound.
Midas
Midas has been designing and manufacturing live performance mixing consoles for the worldâ??s most demanding sound engineers, performers and production rental companies since the early 1970s. The evolution of Midas consoles throughout the 30-year history of this classic marque has always paralleled, and often led, increasingly sophisticated audio innovations for the world-wide entertainment technology industry. Raising the standards of sonic quality through continual research and development has always been - and still remains - our overall aim. Equally important to us is the design and implementation of many new areas of control functionality and user-friendly desk operation to anticipate and accommodate the rapidly changing and expanding needs of audio professionals who specify Midas consoles for their major tours, festivals, international events, broadcast projects and prestigious fixed installations. The Midas design pedigree has, since our birth, been founded upon a track record of achieving a unique symbiosis with working sound engineers around the planet - engineers who respect and endorse our proven technology in the light of their responsibilities to their internationally-based clients who are themselves the leading lights of our industry.
Used Analog Mixing Consoles
Verona 640 - 64 mic inputs. Used on various rentals. Mint condition.
Verona 480 - 480 FOH mixing console with case. Used on various rentals.
Verona - Verona with 56 channels and flight case in good condition. Previously used on rentals.
Verona - Verona 48 channels. Maintained regularly by trained professionals.
Verona - Midas Verona V/480/8/IP analogue mixing console. 14 day warranty.
Verona 480 - Used on various rentals. 480TP. Comes with a 30 day warranty.
Verona 400 Tour Package - Midas Verona 400 TP with case and dual PSUs.
Verona - Verona with flight case in good condition. Previously used in rentals.
Verona - 24 channel audio console. Comes with a case.
Verona - 48 Ch Console. Used less than 6 times
Verona 480 - Midas Verona 480. In good condition. 10 day warranty.
Verona - Since 2008, Has Been Used for One Outdoor Event and Three Corporate Events in Hotels. This Console h...
Verona 40 Channel - 40 channel. In good working order.
Verona 320 - Corporate used Verona 320 with flight case in excellent condition.
Verona 400 - Verona 400 with flight case in excellent condition, previously used on an installation.
Verona 24 Channel - 24 channels. In almost new condition. Used in a corporate production market.
Verona - 48 channel Midas console. Comes with a 7 day warranty.
Verona - Verona with 64 Channels in good condition.
GLD 80 - GLD 80 in mint condition, from 2013.
Verona 560 TP - Midas Verona 560 TP w/case and dual PSUs