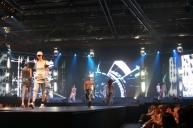 The TR2010E LED Display System is a significant step forward in LED technology. The TR2010E is an incredible versatile 10mm system for indoor or outdoor applications. The high brightness and resolution gives this screen the depth to be used in a wide array of applications. Whether the application is indoor, outdoor, modular or fixed, the vivid color and image quality creates maximum impact. The modular design allows for fast build time with very little maintenance. In addition, the TR2010E is waterproof conforming to IP65 international standards, which enables it to withstand severe conditions.
Toshiba
Toshiba America, Inc. (TAI) is the holding company for one of the nation's leading group of high technology companies, with a combined total of approximately 8,000 employees in the U.S. Together, the U.S.-based companies under TAI's umbrella manufacture and market a widely diversified range of modern electronics, each conducting research and development, manufacturing, sales and service in its field of expertise. The U.S.-based Toshiba operating companies and some of their chief products are as follows: Toshiba America Electronic Components, Inc. (Flash Memory, LCD Panels, Microprocessors); Toshiba America Information Systems, Inc. (Notebook Computers, Storage Devices, Imaging Systems, Telecommunication Systems); Toshiba International Corporation (Power Generation Equipment, Industrial Electronic Equipment); Toshiba America Medical Systems, Inc. (CT, Ultrasound, and MRI); Toshiba America Consumer Products, LLC (HDTVs, Digital Home Theater Products). TAI is a subsidiary of Toshiba Corporation, a world leader in high technology products, with 364 consolidated subsidiaries worldwide.
Used Video Panels
Video panels are used in concerts in order to create a large video wall for displaying visual effects and close-up shots of the performers during the concert. A video wall panel, also called a visual display panel or video tile, can be made from various different technologies, such as LCD panels, LED panel, rear projection screens and DLP tiles. LED video panel technology is one of the most favored types in video panels, as it is cheap to use, doesn'??t overheat and provides an exceptionally sharp, clear image on the screen. Video panels are preferred to a single, extra large video screen for a number of reasons, not least because of the cost involved in creating an extra large video screen. Video panels can be disassembled, making them easier to transport, and they can also be customized '?? for example you can have an outdoor video panel or an indoor video panel, and by using individual panels the pixel density is usually much greater. One notable feature of video panels is that the '??bezels'?Ě, the plastic surround that lines the edge of the video tile, is especially narrow. These are kept as narrow as possible on video panels so that the image on the finished video wall is not impacted noticeably by separating lines. Although it would actually be feasible to use multiple television sets or computer monitors to make a video wall, specially designed video panels are the preferred option, as they feature the necessary hardware to allow for smooth integration of all the video tiles used. This makes video panels easy to connect together with regards to power source and commands between the different screens, so their brightness and contrast can be easily calibrated.