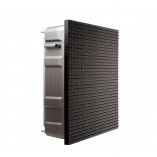 The SLite 10 LED display achieves a visual resolution of 10mm versus a physical resolution of 20mm, thanks to Barco's proprietary Dual Pixel Technology, which doubles the visual resolution of an LED display. Thanks to the high fill factor of the LED components, the SLite 10 LED display can be used for LED displays with relatively short viewing distances. It is the ideal product for outdoor advertising, corporate branding, and many other outdoor LED display applications.
The SLite offers the perfect resolution for such large-scale installations as spectaculars, sports or othe large Venue applications.

Combine the best of both worlds to get the best possible picture quality. The SLite can overlay video and data sources in their native quality. No conversion of any kind gives the display the ultimate sharpness of all sources.
Barco
Barco, a global technology company, designs and develops visualization solutions for a variety of selected professional markets: medical imaging, media & entertainment, infrastructure & utilities, traffic & transportation, defense & security, education & training and corporate AV. In these markets Barco offers user-friendly imaging products that optimize productivity and business efficiency. Its innovative hard- and software solutions integrate all aspects of the imaging chain, from image acquisition and processing to image display and management. Barco has its own facilities for Sales & Marketing, Customer Support, R&D and Manufacturing in Europe, America and Asia-Pacific. The company (NYSE, Euronext Brussels: BAR) is active in more than 90 countries and employs 3,500 staff worldwide. In 2008 Barco posted sales of 742 million euro.
Used Video Panels
Video panels are used in concerts in order to create a large video wall for displaying visual effects and close-up shots of the performers during the concert. A video wall panel, also called a visual display panel or video tile, can be made from various different technologies, such as LCD panels, LED panel, rear projection screens and DLP tiles. LED video panel technology is one of the most favored types in video panels, as it is cheap to use, doesn'??t overheat and provides an exceptionally sharp, clear image on the screen. Video panels are preferred to a single, extra large video screen for a number of reasons, not least because of the cost involved in creating an extra large video screen. Video panels can be disassembled, making them easier to transport, and they can also be customized '?? for example you can have an outdoor video panel or an indoor video panel, and by using individual panels the pixel density is usually much greater. One notable feature of video panels is that the '??bezels'?Ě, the plastic surround that lines the edge of the video tile, is especially narrow. These are kept as narrow as possible on video panels so that the image on the finished video wall is not impacted noticeably by separating lines. Although it would actually be feasible to use multiple television sets or computer monitors to make a video wall, specially designed video panels are the preferred option, as they feature the necessary hardware to allow for smooth integration of all the video tiles used. This makes video panels easy to connect together with regards to power source and commands between the different screens, so their brightness and contrast can be easily calibrated.