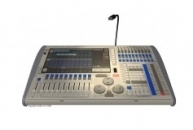 During LDI 2009, I got a chance to stop by and take a close look at Avolites latest lighting desk, the Tiger Touch. The Tiger Touch is a ??hybrid of the of powerful Diamond 4 functionality coupled with the friendly Pearl interface. The desk features a wide screen touch interface that provides an ever evolving software skin which can be adapted to the programmers style and layout preferences.

The Tiger Touch Lighting Desk utilizes Avolites latest Operating System, the Titan. Titan has been created as a ??Clean Sheet. It's fresh, clear design is fast and elegant to use. Avolites will continue to develop the Titan Operating System and these benefits are continuously offered to users ongoingly at no extra charge under Avolites policy of ??Free Upgrades for the Life of the Console.
Avolites
olites are dedicated to producing the very best control solutions for all aspects of the professional lighting industry. The company has focused on, listened to and built upon end-user feedback which has allowed continual development and evolution of the product range. Avolites equipment utilises cutting-edge technology whilst retaining the accessible, intuitive, hands-on familiarity for which Avolites' products have become popular and renowned. Avolites also believe 'the people' part of the equation is vital in ensuring their position as market leader is maintained. The company comprises a creative, motivated, positive and lateral thinking team of individuals who will ensure a successful and progressive future for the company.
Used LED Video Screens
LED Screens are used in concerts to produce a video wall or concert video screen, so that the musicians and performers can be shown close up, and also for displaying background visuals during a performance. This type of visual display system is essentially a large number of LED screens which are tiled together or overlapped in a way so that they produce a much larger screen. Also called a video tile, LED screens will have extremely narrow bezels (the part which surrounds the LED screens), so that the display is not impacted too badly by having large gaps appear between each tile. Many concert planners prefer using LED screens to one large screen as they offer a number of advantages, including a customized layout, greater pixel density and a greater screen area for the cost, as manufacturing unusually large screens can be prohibitively expensive. LED screens use something called light-emitting diodes to illuminate the video screen. Two different types of panel are used in LED screens â?? discrete LEDs and surface mounted panels. Most types of outdoor LED video screen and indoor LED video screen use discrete LEDs, which are made up of a cluster of blue, green and red diodes. This cluster of diodes forms just one pixel in the LED screen, and so many hundreds of diodes are used, with the pixels being spaced out evenly across the entire screen. This combination of color clusters enables every color in the light spectrum to be replicated on LED screens.
Tiger - Includes a flight case. Used on various rentals.
Tiger Touch - Corporate used Tiger Touch with flight case in mint condition.
Tiger Touch - Tiger Touch used in corporate events.
Tiger Touch - Tiger Touch in excellent condition, from 2012.
Tiger Touch - Like new Tiger Touch, from November 2012 .
Tiger Touch - Like new, corporate used Tiger Touch, from 2012.
Tiger Touch - Corporate used Tiger Touch in great condition.
Tiger Touch - Used one night a week by operator in a fixed installation.
Tiger Touch - Definitive hybrid console in like new condition. Corporate use.