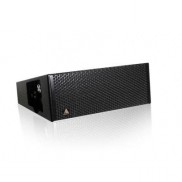 SpekTrix W
The SpekTrix Wave (Wide Angle Vertical Enclosure) utilizes the same components as the SpekTrix and can be amplified and processed in parallel with the 5 model. The increased vertical coverage pattern of 15 SpekTrix W makes it the optimal downfill Solution at the bottom of an array and perfect for use in a wide vertical array designs.

The AIR rigging system is simple and effective, consisting of a laser-cut revolving disk allowing for 3 splay positions. The enclosure is also available with EIR installation rigging, a plate system that reduces cost and weight.
Adamson Systems Engineering
Brock Adamson's passion for sound has driven the evolution of Adamson Systems Engineering from a small speaker shop to a company invested in its own factory, with a broad engineering base and a wide range of computer controlled manufacturing machinery. Now Adamson is recognized as the most advanced manufacturer of loudspeaker systems in the industry. A versatile range of products - from the highly acclaimed Y-Axis and SpekTrix true line source arrays to the SX and MH Series of conventional loudspeakers - has equated the Adamson brand name around the world with excellence and distinction.
Used Line Array Speakers
Find used line array speakers and line array elements from such popular brands as L-Acoustics, d&b audiotechnik, Meyer Sound and Nexo. All used line array speakers are warrantied and in most cases inspected by factory certified technicians. Solaris sells and buys secondhand and used line arrays for large concerts, tours, stadiums and auditoriums. Call us if you don't find it and we will find it for you.
SpekTrix Wave - SpekTrix Wave in good condition. Minimum purchase of (2) units. Priced per unit.