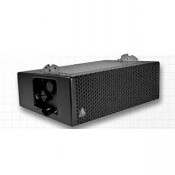 Designed for optimal ease-of-use, the Adamson SpekTrix is a three-way active cabinet that employs two Adamson 8.5 Kevlar, Neodymium drivers, and one B&C DE 900 compression driver mounted on a patented Adamson wave shaping sound chamber. The two 8.5 drivers are each distinct the first is a woofer while the second is a mid range driver.

The sound chamber has a defined coverage pattern of 5-degrees V by 120-degrees H, and is similar to the inner body of a Yaxis drive module with a few modifications. This chamber gives the SpekTrix a slightly curved iso-phase wave front comparable to that of a Yaxis system.

The SpekTrix features Adamson's new Revolving Disk rigging all hardware is recessed, attached and hidden inside the box when arrayed, making the cabinets perfect for industrial applications where you want a system to look discreet. One person can easily accomplish setup of an entire array. The SpekTrix rigging frame is equipped with a single threaded moving pick point, so the center of balance and tilt angle can be precisely adjusted with little effort.

The sleek, trapezoidal SpekTrix cabinet weighs only 62 lbs, and is constructed from rugged 5/8 Baltic birch with a dual component black speckle coat finish.
All SpekTrix cabinets are supplied with lightweight, rugged aluminum dolly boards (four cabinets per dolly), with flight Cases available upon request.

The modest styling and compact size of the Adamson SpekTrix makes it perfect for use in small theaters, clubs and houses of worship.
Adamson Systems Engineering
Brock Adamson's passion for sound has driven the evolution of Adamson Systems Engineering from a small speaker shop to a company invested in its own factory, with a broad engineering base and a wide range of computer controlled manufacturing machinery. Now Adamson is recognized as the most advanced manufacturer of loudspeaker systems in the industry. A versatile range of products - from the highly acclaimed Y-Axis and SpekTrix true line source arrays to the SX and MH Series of conventional loudspeakers - has equated the Adamson brand name around the world with excellence and distinction.
Used Line Array Speakers
Find used line array speakers and line array elements from such popular brands as L-Acoustics, d&b audiotechnik, Meyer Sound and Nexo. All used line array speakers are warrantied and in most cases inspected by factory certified technicians. Solaris sells and buys secondhand and used line arrays for large concerts, tours, stadiums and auditoriums. Call us if you don't find it and we will find it for you.
SpekTrix - SpekTrix package. Comes with flight-cases, dollies and fly-bumpers. From 2004-2006.
SpekTrix - SpekTrix package. From 2004-6. Includes flight-cases.
SpekTrix - Package of (12) SpekTrix, (4) SpekTrix Wave, (8) SpekTrix Subs, and (4) PLM 10000.
SpekTrix - Turn key SpekTrix System in good condition, previously used on corporate events.
SpekTrix - SpekTrixin good condition. Minimum purchase of (4) units. Priced per unit.
SpekTrix - Package of (16) SpekTrix in good condition.
SpekTrix - Turn Key SpekTrix system in great condition. Previously used on tours.
SpekTrix - Spektrix System in good condition.
SpekTrix Wave - 6 Spektrix Wave line array cabinets. In great condition.
SpekTrix - Package of (16) SpekTrix, (8) SpekTrik Subs, (4) PLM 10000 in good condition.