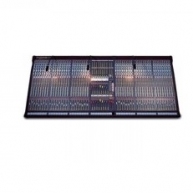 Siena brings all of Midas' knowledge and experience in building dual-purpose consoles, such as the industry-leading Heritage 3000 and the now-legendary XL3, and offers all of these benefits in a compact package. Siena has been designed to both compliment and expand the ground-breaking Verona concept. Built on the highly successful, proven Verona platform, the Siena represents a combination of superb Audio Performance, and increased functionality, creating a new, class-leading, dual-purpose console.

Siena is more than a Verona with extra auxes. The buss structure has been redesigned to be more appropriate for monitor use. Sophisticated Engineering Solutions have been employed, such as the advanced Solo Tracking System, switched inserts on outputs, and a powerful logic controlled solo system.

Siena has a comprehensive control surface, however, it still maintains the familiar ergonomic layout of all Midas consoles, making navigation around the control surface quick, easy and intuitive.

Siena will appeal to the discerning audio professional, be they working in Concert sound, Theatre, Broadcast, House-of-worship or Audio-Visual, and at either end of the multicore.
Midas
Midas has been designing and manufacturing live performance mixing consoles for the worldâ??s most demanding sound engineers, performers and production rental companies since the early 1970s. The evolution of Midas consoles throughout the 30-year history of this classic marque has always paralleled, and often led, increasingly sophisticated audio innovations for the world-wide entertainment technology industry. Raising the standards of sonic quality through continual research and development has always been - and still remains - our overall aim. Equally important to us is the design and implementation of many new areas of control functionality and user-friendly desk operation to anticipate and accommodate the rapidly changing and expanding needs of audio professionals who specify Midas consoles for their major tours, festivals, international events, broadcast projects and prestigious fixed installations. The Midas design pedigree has, since our birth, been founded upon a track record of achieving a unique symbiosis with working sound engineers around the planet - engineers who respect and endorse our proven technology in the light of their responsibilities to their internationally-based clients who are themselves the leading lights of our industry.
Used Analog Mixing Consoles
Siena - Siena in great condition.
Siena - Midas Sienna 40 Channel Touring Package
Siena 480 - Siena 480 touring package in mint condition. 120 day warranty.
Siena 240 - Corporate used Siena 240 with flight case in excellent condition.
Siena 320 - Corporate used Siena 320 with flight case in great condition.
Siena 40 Channel - This is a Midas Siena 400 Monitor Board 40 Channel Includes a Road Case with Dog House, Dust Cover, ...
Siena 400 - Corporate used Siena 400 with flight case in great condition.
Siena - Midas Siena 560 with case. Comes with a 5 day warranty.
Siena 480 - 48ch FOH console with internal 2x PSU
Siena 48 16 2 - 48 channel console in perfect working order.
Siena 640 - 64 mic inputs. Used on various rentals.
Siena-48 - From installation. Call for more information on this listing.