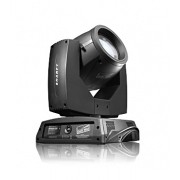 Sharpy is a 189W moving beam light with an unprecedented brightness usually achievable only with far greater wattages. Weighing just 16 kg, Sharpy produces a perfectly parallel, laser-like beam with an incredible output of 59,760 lx at 20m (5,100 footcandles at 65 ft). Sharpy is also groundbreaking for the purity of its beam, which is sharply defined and free of any halo or discoloration around the edges. It offers 14 different colors and 17 Gobos, allowing you to change the shape of the beam and create an array of spectacular mid-air effects. 
With its light weight and modest footprint, Sharpy is small enough to be fitted anywhere on trusses at live and TV events, on stage, in showrooms or conference rooms. Sharpy is also available in a shiny mirror-finish chrome version, adding glamour to sets while making lights a less invasive presence.
Clay Paky
Manufacturer of moving lights, effects, and image projectors.
Used Moving Lights
Moving lights, or intelligent lighting as they are sometimes called, are basically a type of stage lighting that is able to move due to its integrated mechanical elements, which go beyond the moving parts that are found in more traditional, non-moving lighting. Automated lighting such as moving lights is highly valued by stage lighting technicians as through them, it is possible to create highly complex special effects that simply cannot be made using standard, non-moveable lights. It should be noted however, that when it comes to intelligent lighting, the real intelligence lies with the programmer of the show, rather than the lighting equipment or any operator. Moving head lights, also called moving head luminaires, are highly versatile lighting instruments capable of performing multiple lighting functions at once. They have largely superseded the use of multiple non-moving lights to create special effects, which required many lights and a large amount of skill on behalf of the operators. Moving lights are hooked up to a lighting control console and send data to it in one of three ways '?? through an Ethernet control (a relatively new technology), analogue control (now almost obsolete), or DMX, (which is now the industry standard). So long as they have been properly programmed, the optics of wiggly lights can be altered in many ways, allowing for the '??personality'?Ě of the lights to be adapted almost instantaneously, depending on the requirements of the operator. Typically, moving lights will be pre-programmed before a production and controlled using simple commands, although some more experience operators may prefer to control them '??live'?Ě, if they have the experience to do so.
Sharpy - Corporate used Sharpy in mint condition. Minimum purchase of (2) units includes a dual flight case.
Sharpy - Corporate used Sharpy in mint condition. Minimum purchase of (2) units includes case. Priced per uni...
Sharpy - From 2009 to 2012 includes flight case, safety cable, and (2) brackets.
Sharpy - From 2011. In like new condition.
Sharpy - Sharpy in good condition, previously used on rentals. Minimum purchase of (4) units includes flight ...
Sharpy - Package of (2) Sharpy with Dual flight case in great condition. Previously used in tours.
Sharpy - Like new Sharpy, from 2014.
Sharpy - Include the foam inlay and hooks/clamps.
Sharpy - Corporate use only. Quad Flight Case included.
Sharpy - Used as demo units. Comes with a 15 day warranty.
Sharpy - Used 6 month on a fixed installation. Mint condition.