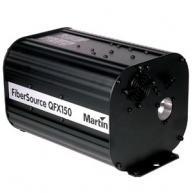 Other features include a shutter and variable Strobe on the Dimmer wheel. Furthermore a twinkle wheel creates sparkling effects for star ceiling and star curtain installations.

The FiberSource QFX150 has an extended control in stand alone mode. Via the dipswitches, virtually any combination of colors, color speed and twinkle speed is programmable. No external controller is required.
Martin Professional
Martin is the maker and distributor of entertainment control and intelligent lighting and effects. Martin uses the latest technologies to create these amazing machines for the entertainment industry. Martin is also a maker of high end sound systems known as
Used Strobe Lights
Find used strobe lights in well maintained condition from such popular brands as High End Systems, Martin Professional and more. All used lighting consoles come with warranty and many have been certified by factory technicians. Solaris sells and buys secondhand and used strobe lights for touring production, churches, theaters, film, television and more. Call us if you don't find it and we will find it for you.