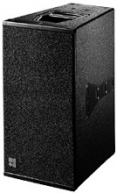 Q7 loudspeaker
The Q7 is a 75deg x 40deg passive two-way loudspeaker housing two 10" LF drivers and a 1.3" HF Compression Driver with a rotatable constant directivity horn and a passive crossover network. The two 10" neodymium LF drivers are positioned in a dipolar arrangement providing exceptional vertical dispersion control with the nominal angle being maintained down to 400 Hz. The Q7 with the horn rotated is used to mount the loudspeaker horizontally where space is limited, or the maximum horizontal pattern control is needed and when added to the bottom of Q1 arrays. The Q7 can be used as a stand-alone full range system, in combinations with other Q-Series cabinets ground stacked, or mounted on a high stand with a swivel bracket. They can also be combined in flown array systems. The Q7 cabinet is constructed from marine plywood and has an impact resistant paint finish. The front of the loudspeaker cabinet is protected by a rigid metal grill, covered with a replaceable acoustically transparent foam. The cabinet incorporates a pair of handles and mounted on the rear panel are two EP5 or NL4 connectors wired in parallel.


Amplifiers
The Q7 can be driven either by d&b's D6 or D12 dual channel power amplifiers configured for the Q7. More detailed information on specific loudspeaker setups with d&b amplifiers is available either in the relevant loudspeaker or amplifier manuals.

db audiotechnik
d&b audiotechnik has been developing, manufacturing and distributing loudspeaker systems since 1981. The company operates internationally in the field of electroacoustics to produce high quality products for reinforcement of speech and music. Through the amalgamation of technological developments, system integration principals, quality of construction and standards of service, d&b pursues a systems approach that includes all aspects of design, development, manufacture and support. d&b's loudspeakers are used globally in rental and installation markets for events, multimedia, musicals, concert halls, theatres, opera houses, broadcast and everything from the smallest conference room to the largest stadium.
Used Line Array Speakers
Find used line array speakers and line array elements from such popular brands as L-Acoustics, d&b audiotechnik, Meyer Sound and Nexo. All used line array speakers are warrantied and in most cases inspected by factory certified technicians. Solaris sells and buys secondhand and used line arrays for large concerts, tours, stadiums and auditoriums. Call us if you don't find it and we will find it for you.
Q7 - Package of (4) Q-7 plus cases.
Q7 Package - Package of (2) Q7 in excellent condition.
Q7 - Used on various rentals. Comes with a 10 day warranty.
Q7 - Call for more information on this listing.
Q7 - Two Q7s in great condition. Comes with wooden covers.
Q7 - Package of (2) Q7 with Flight case in good condition. Previously used on rentals.
Q7 Package - Package of (2) Q7 loudspeaker, (2) Q-SUB subwoofer, (2) D-12 amplifier and (2) Q swivel brackets.
Q7 - Package of (2) Q7 in excellent condition. Priced per package.