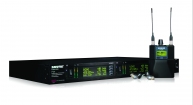 Das PSM 1000 In-Ear Personal Monitoring System bietet eine Doppel-Sendereinheit in 19" Rack-Abmessung. Dank des kompakten Two-Antenna-Diversity Taschenempfngers gehren Dropouts weitestgehend der Vergangenheit an. Die Full Range Scan Funktion gestaltet das Frequenz-Setup uerst effizient und komfortabel. Der PSM 1000 Sender ist zudem mit einem Ethernet Anschluss ausgestattet, der die Steuerung und Kontrolle ber die Shure Wireless Workbench Software 6.0 ermglicht. Der neue, zum Patent angemeldete CueMode erlaubt es die unterschiedlichen Monitormixe mit einem Knopfdruck zu kontrollieren. Die hochselektive Filterung des HF-Eingangssignals reduziert Dropouts. Der hochwertige, digitale Stereo Encoder sorgt fr exzellente Stereotrennung und Klarheit des Sounds.
Shure
Shure. It's your sound. Here's You. You've got something to say. Something to play. You want to share it with the world - or maybe just 50 people in a smoky bar. Either way, music is your life. Here's Us. We're a lot like you, except we make microphones. We're passionate about sound - and about audio products. We design and build them as if we were using them ourselves. Because a lot of us do just that. KBase ResourcesAbout Us Resources Contact Shure: United States Asia Europe, Middle East & Africa Canada, Latin America & Caribbean Here's Your Sound. It's where we meet. Shure has been enthusiastically dedicated to helping you tell the truth in notes, words and sound since 1925. We make microphones and audio electronics to help amplify, process, and mix your sound. Perfectly. Transparently. Reliably. This success is and always has been due to our recognition that audio electronics are the means to self-expression for a diverse group of individuals worldwide. Without the desire of so many to have their unique voices heard, there would be no Shure Incorporated. Now, past our 75th year, we re-dedicate ourselves to this notion of being the audio tool of choice for personal expression, reminding ourselves that "Shure" is synonymous with "your sound." Our history is one of innovation and excellence. For instance, our SM57 and SM58 mics are still the world's top sellers - over 30 years after they were introduced. Our products are, quite simply, the tried and true products of genius. Of course, there's a lot more to the story. Click here for a Brief History of Shure. So, what do we make? Lots of great gear for stage and studio: Microphones. Wireless microphones and wireless guitar systems. Digital signal processors and feedback eliminators. Personal (in-ear) monitor systems. Hi-Fi phono cartridges and DJ needles. Portable mixers and digital signal processors. If you're here because you're a musician (or speaker or engineer or sound technician), you've come to the right place. It's nice to meet you. Because you and Shure, we've got something in common.
Used Wireless Communication System
Wireless communication systems help individuals transfer important info amongst two or more points without actually being connected to each other. There devices such as a wireless headset and wireless receiver are long range communicating apparatuses that would be impossible to use with wires. Situations where the use of a wireless communication system is crucial are to link several transportable impermanent work areas, digitally connect users to networks, and backup a wireless communication network in case it fails. The distance between one wireless comm system device and another one can be as little as a few metres or as far as a millions of kilometres. Some examples of how these devices are often used are as two-way radios, remote control devices and modulated laser light systems. A wireless transmitter works with other wireless communication system devices by using radio frequencies, infrared communication and antennas to transfer information to a wireless receiver, which will then signal a device what to do. The wireless communication system differs in local coverage and availability. Some signals and satellites may not be able to provide you signal in certain areas. Therefore the performance and range of a wireless communication system should be thoroughly tested being used. Besides using no cords and wires, the majority of wireless communication instruments use point-to-point, broadcasting, wireless networks and cellular networks to receive and transfer info.