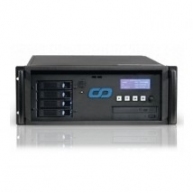 The award winning Pandoras Box Server system offers the best high performance link between projection and digital image compositing.

A turnkey Solution that perfectly unites state of the art rendering technology with intuitive media- and show control. A high-quality server featuring the most powerful render-engine offers real-time compositing in 3D and allows for projection onto any shape and any surface.

Arrange videos and images freely, change colour, form and position. Pandoras Box synchronizes all video & audio sources. On-site 3D rendering, composition and editing make Pandoras Box the perfect choice for any live event or multi-media show.
Coolux
Used Media Servers
Media servers are a type of software application or computer hardware which are primarily used to store, share and process media files. Media servers can be specialist enterprise class machines that are capable of providing video on demand, or they can just be a simple PC or even attached storage device, although dedicated software and/or machines is used for professional applications. The video processing server, as media servers are often labeled, is becoming steadily more popular in theater, concerts, corporate events, exhibitions and night clubs due to the increasing usage of motion graphics in such events. For this purposes, the image processing system is likely to be a high-spec PC, with a boosted hard drive, graphics system and RAM, together with something like a solid-state hard drive or a RAID system. These media servers serve as a high performance video engine, as they will run software which allows technicians to control and manipulate the media content, such as controlling the playback of the content. In order to do so, media servers will usually included a MIDI or DMX512-A input. A media processing engine is usually able to capture media, using specialist hardware like tuner cards, which can capture broadcasted media from analog signals. Once this media is digitally encoded, it can then be saved onto media servers and then manipulated according to the desires of the technician.