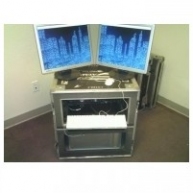 Catalyst 4.0 HD. This FULLY Upgraded Catalyst 4.0 HD System is loaded with 600GB on board storage and maximum RAM for faster performance over traditional Cats.
High End Systems
From Ani di Franco to ZZ Top concerts. From Super Bowl half time to popular music award shows. From trade shows and talk shows to Olympic ceremonies or church sanctuaries. At High End Systems Inc., we innovate and create the lighting products and control systems that illuminate some of the world's biggest artists on the largest stages, as well as film and television sets, cruise ships, theme parks, restaurants and retail spaces. Now entering our fourth decade, we're one of the world's largest entertainment lighting manufacturers, a pioneer in new digital lighting technology and producer of the industry-preferred lighting controller technology. We attribute our success to staying in touch with the needs of the entertainment lighting community. Product research and development at our Austin, TX headquarters is an ongoing collaboration between in-house engineers and lighting designers in the field. This collaboration is largely to thank for our status as a major industry innovator and intellectual property holder. We're not only keeping pace with industry developments - we're guiding them. We're constantly pushing the creative and technological envelope to meet customer needs and stay ahead of the curve. As members of the entertainment community, we know reliability is paramount. We maintain rigorous manufacturing standards, while providing industry-leading customer support services.
Used Media Servers
Media servers are a type of software application or computer hardware which are primarily used to store, share and process media files. Media servers can be specialist enterprise class machines that are capable of providing video on demand, or they can just be a simple PC or even attached storage device, although dedicated software and/or machines is used for professional applications. The video processing server, as media servers are often labeled, is becoming steadily more popular in theater, concerts, corporate events, exhibitions and night clubs due to the increasing usage of motion graphics in such events. For this purposes, the image processing system is likely to be a high-spec PC, with a boosted hard drive, graphics system and RAM, together with something like a solid-state hard drive or a RAID system. These media servers serve as a high performance video engine, as they will run software which allows technicians to control and manipulate the media content, such as controlling the playback of the content. In order to do so, media servers will usually included a MIDI or DMX512-A input. A media processing engine is usually able to capture media, using specialist hardware like tuner cards, which can capture broadcasted media from analog signals. Once this media is digitally encoded, it can then be saved onto media servers and then manipulated according to the desires of the technician.
Catalyst 4.0 HD - Catalyst 4.0 HD in great condition.
Catalyst 4.10 HD - Fully upgraded Catalyst 4.10 HD system. Loaded with 600GB on board storage and maximum RAM for faste...