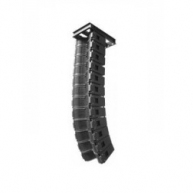 The MLA2 is a low-profile, axisymmetric, two-way mid-size line array module based on McCauley Sound's revolutionary MONARC? line array technology. Engineered to deliver high definition, high SPL sound reinforcement for a broad range of applications, including concert / touring sound and mixed-media corporate events, the MONARC? MLA2 offers sound designers the ideal tool for creating precision coverage zones of acoustically accurate, tonally superior sound reproduction. Brilliant technologies like the Intercell Summation Aperture?, which creates a perfectly coherent and uniform wide-band wavefront, while reducing distortion to near-zero levels, make the MONARC? MLA2 the most precise and acoustically transparent line array system on the market. At the same time, MLA2's MONARC? Integrated Rigging System provides operators with the simplest, most flexible and easiest way to fly or stack a line array the industry has ever know.

The MLA2 is a 2-way full range line array module in a computer optimized enclosure. The MLA2 houses twin 8" HX32 midrange cone drivers, and two high frequency compression drivers. The enclosure is constructed of durable 12-ply void-free birch laminate, dadoed for strength and durability. All MONARC? modules ship with an advanced integrated rigging system with all necessary Rigging Hardware self-contined to the enclosure. This system allows an array to be flown quickly and easily, or in the case where rigging is not approriate, this same rigging system allows the cells to form ground stack arrays. Perforated steel is employed for frontal protection of the loud speaker complement. The MCB2 integrated Castor board package is necessary to facilitate rigging and to aid transport.

McCauley Sound
Nestled in the heart of the Pacific Northwest, surrounded by great evergreen forests and under the shadow of majestic Mt. Rainier, McCauley Sound, Inc. is an American company founded in the humble frontier spirit of discovery and driven forward by a traditional pride in the merits of craftsmanship. As an innovator and leader in the design and manufacture of high-performance professional loudspeaker systems and raw-frame loudspeaker components, McCauley Sound is the only professional audio company still based in the United States who both engineers new technologies and manufactures products entirely in-house and under our direct control.
Used Line Array Speakers
Find used line array speakers and line array elements from such popular brands as L-Acoustics, d&b audiotechnik, Meyer Sound and Nexo. All used line array speakers are warrantied and in most cases inspected by factory certified technicians. Solaris sells and buys secondhand and used line arrays for large concerts, tours, stadiums and auditoriums. Call us if you don't find it and we will find it for you.
MLA2 - Comes with a 30 day warranty.