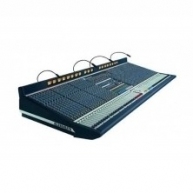 27 buss live sound VCA console
The ML5000 is a fitting flagship for our range, satisfying those loyal ALLEN&HEATH customers who wanted a console with the complete professional tool set.

We really set out to change the rules for VCA desks with this console, forever raising the pro audio industry's price / performance expectations. From its enhanced P/AFL facilities to its sidecar and dual power supply options, ML5000 is clearly capable of competing for touring work against old-style large format desks costing far, far more.

NEW: There is now a 'B' Option available with first 4 mono channels replaced with 4 stereo channels

The ML5000 embodies the professional sound engineer's ideal tool set ??a versatile, feature-packed and rider-friendly console, in an intuitive, walk-upand-go format. ML5000 is a dual function, LCRplus, 8 group, 16 aux, 12x8 Matrix, VCA console. Frame sizes range from 32+4 to 48+4 channels, with sidecar expansion to 96+4 channels. With such exceptional sound quality,
it's an engineer's dream!

? 32+4, 40+4, 48+4, plus up to 2x 24 input sidecars, total 96+4 channels
? 4 extra dual input stereo channels fitted as standard
? B option for 4 extra dual stereos in place of mono channels
? 8 VCA groups with mute and PAFL functions
? Dual functionality for mixing front-of-house, stage Monitors or both
? Monitor mode provides 16 auxes with pre switching, faders, inserts, mutes,bus and output meters
? FOH mode provides 8 groups with individual routing and 16 auxes
? LCRplus panning available from channels and groups.
? Stereo switching for up to 4 true stereo sends from pairs of auxes
? 12x8 Matrix with inserts and external inputs
? 8 mute groups
? 4 band, full sweep EQ with variable Q on midrange
? Swept 20-400Hz HPF
? Stereos can mix two balanced sources into one channel, includes L, R L+R mono switching
? Balanced inserts with separate send and return sockets
? 128 snapshot memories for recall of VCA assignments and mutes
? MIDI/RS232 ports for remote archiving and show control
? ALLEN&HEATH ML Archiver software available for PC control of the memories
? Single press clear or set all mutes or VCA assignments functions
? Talkback to any of the fader masters, Matrix, LR and C
? ClearComTM compatible intercom works with console headphones and TB mic
? Intelligent PAFL system PFL override AFL for quick multi-mix output/source monitoring
? Intelligent PAFL system AFL cancel PFL, all clear, auto-cancel or add modes
? Intelligent PAFL system Input PFL or stereo-in-place AFL
? Intelligent PAFL system mono or stereo AFL of masters and Matrix
? Solo-in-Place with last solo toggle and channel solo safes
? Simultaneous LED bar and moving coil VU metering of all main outputs and P/AFL
? Fader driven engineers Listen wedge feed with insert in monitor mode
? Separate stereo headphones and local monitor control
? LCR to stereo engineer's monitor capability
? 1kHz oscillator / pink noise generator
? Preamp input capability for mic or line up to +30dBu
? Main, group, aux and Matrix outputs on balanced XLR
? 4-pin XLR lamp sockets ALLEN&HEATH LEDlamp available
? Uses RPS14 external power supply with built-in combiner for a backup supply
? Internal aux jumper options for pre-insert, pre/post-EQ, pre/post-mute settings and direct output
Allen and Heath
We've built a lot of mixers in the last 35 years or so (over 160,000 at the last count) and we still get a huge buzz out of doing it well. It's an unbeatable feeling to know that at any time of day or night, right across the globe, there is an Allen & Heath mixer out there working hard, sounding great and making life a little easier for the guy at the controls.
Used Analog Mixing Consoles
ML5000 - 32 channel console with case and PSU. Used on various rentals.
ML5000 - New (Full Manuf Warranty)+Doghouse Case + (2)PSU
ML5000 - 32 Ch. Desk in Like New Condition w/2 PSU
ML5000 52 Channel - This ML5000 is a 52 Channel Console and Comes with a Doghouse.
ML5000 - 48ch w/road case, meter bridge, and 2xPSU
ML5000 - From installation. 48 mono. 7 stereo. 16 aux.
ML5000 - (40)-CH console in Flightcase with (2)-PSUs.
ML5000 - 48 channel. In mint condition.
ML5000 - 40 Channel Version
ML5000 - Corporate used ML5000 with flight case in mint condition.