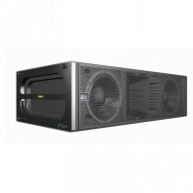 The MILO high-power curvilinear array is remarkably compact and lightweight for a self-contained, four-way system particularly considering that it delivers 140 dB SPL peak output with exceptionally flat phase and frequency response. MILO contains three dedicated very-high frequency transducers that extend its operating range to 18 kHz, increase available high frequency headroom, and result in extraordinary resolution of delicate transients, even in very long throw applications.

MILO is the same width as the M3D-Sub directional Subwoofer, though much smaller in other dimensions. This matched width affords seamless configuration of combined MILO/M3D-Sub arrays for extension of low frequency bandwidth and headroom. The combination also exhibits Meyer Sound's proprietary low-frequency directional control, so bass energy is effectively steered away from areas behind the array.

MILO can serve as the keystone component in scalable, building BLOCK systems comprising combinations of M Series products. For example, MILO can be paired with the M3D line array for very large venue applications, or transition to MICA compact high-power curvilinear array loudspeakers for near field coverage where appropriate. The MILO 120 expanded coverage high-power curvilinear array loudspeaker provides the ideal complement to MILO for downfill applications and shares the same dimensions and QuickFly rigging components as MILO. All M Series products have compatible acoustical and performance characteristics.
Meyer Sound
Established by John and Helen Meyer in 1979, Meyer Sound has been at the forefront of innovation in audio engineering for over two decades. From the outset, Meyer Sound looked beyond loudspeaker cabinet design to create totally integrated, systems-comprehensive solutions that encompass transducer design, signal processing, power amplification and even electroacoustic measurement systems. As a result, Meyer Sound's engineering teams have earned an enviable reputation for developing unique, innovative solutions to some of the most difficult problems confronting audio professionals. In fact, it is fundamental to John Meyer's philosophy that no component of a system should be compromised in order to compensate for variables "upstream" or "downstream." Instead, the entire system should be conceived, designed, tested, confirmed and manufactured as a whole to provide the optimum blend of audio fidelity, utility and long-term reliability.
Used Line Array Speakers
Find used line array speakers and line array elements from such popular brands as L-Acoustics, d&b audiotechnik, Meyer Sound and Nexo. All used line array speakers are warrantied and in most cases inspected by factory certified technicians. Solaris sells and buys secondhand and used line arrays for large concerts, tours, stadiums and auditoriums. Call us if you don't find it and we will find it for you.
MILO 90 Package - Package of 12 Milo's. Used on various rentals.
MILO 90 Package - Package of (12) MILO 90, (2) MILO 120, (8) 700HP, and (1) Galileo 616 in great condition.
MILO 90 & MILO 120 - Package of (16) MILO 90 and (4) MILO 120 in great condition. Previously used on rentals.
MILO 90 + Milo 120 Package - Milo package including (10) Milo 90, (2) Milo 120, (12) HP700 and covers and dollies.
MILO 90 Package - Complete MILO package. Comes with a 14 day warranty.
MILO 90 - Turn key system of (36) Milo 90, (8) Milo 120, and (16) M3D Subs in good condition.
MILO Package - Complete MILO package
MILO 90 - Complete Milo system. All bought new from Meyer in 2008.
MILO 90 Package - Corporate used package of (16) MILO 90 and (8) 700-HP with covers and dollies in great condition.
MILO 90 - Package of (16) MILO 90 and (2) MILO 120 in good condition, previously used on rentals.
MILO 90 Package - Milo 90 Package in excellent condition. Previously used on local tours.
MILO 90, 120, 700-HP & MICA Sound System - MILO and MICA Turnkey System in great condition.
MILO 90 Package - Complete Milo package. Age varies from 2005-2008.
MILO 90 - Milo 90 in great condition. Minimum purchase of (3) units. Priced per unit.
MILO 90 Package - Complete MILO 90 package.14 day warranty. Ask about dollies and covers at an additional cost.
MILO 90 - Package of (16) MILO 90 and (2) top grids.
MILO 90 - Turn key Milo 90 system in excellent condition. Previously used on various corporate events.