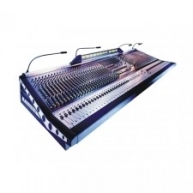 Soundcraft's flagship dual-purpose MH4 console has become even more flexible thanks to the introduction of updated mono and stereo input modules. The new modules expand the use of the Aux busses by adding true mono/stereo switching to take maximum advantage of the console's 16 busses in Monitor mode, giving configurations of 16 mono, 12 mono/2 stereo or 8 mono/4 stereo mixes.

The MH4 has become widely adopted because of its ability to handle the most demanding live sound mixing, and is capable of use on FOH, Monitors, or a combination of both. The new mono/stereo Aux switching makes the monitor-mode even more flexible when large numbers of mono mixes are required.
Soundcraft
Founded in 1973, Soundcraft first made its mark with the launch of the Series 1, the first mixing console in a flightcase. Back in the early 70's, the music touring business was just beginning - and the transportable mixing desk quickly became popular among the bands and the new PA companies that were springing up to rent out sound equipment. From what was then a small company in central London, Soundcraft expanded and started to diversify. The company designed a mixer for recording - the Series 2 - and began to build a reputation for great-sounding desks, which is often referred to as the favoured 'British Sound'. Design and innovation has always been one of Soundcraft's major strengths. Over the years it has introduced a number of industry-favoured consoles such as the Series 4, 2400, TS24, 8000, 200B, 6000, Delta, SAC200 and the Spirit Folio range, and more recently the Series FIVE, FIVE Monitor and Broadway. Today Soundcraft has a network of 88 distributors selling and supporting its products world-wide. Part of the Harman Pro Group, Soundcraft is still very much the dedicated professional mixing console designer and manufacturer it was back in 1973. It now boasts a range of mixers which are designed for use in live sound, recording, post-production, TV and radio production and disco applications. Harman is an international company which comprises a group of dedicated manufacturers of audio equipment spanning professional audio, in-car systems, multimedia and hi-fi consumer products.
Used Analog Mixing Consoles
MH4 - This is a Soundcraft MH4 Touring Package, Plug and Play.
MH4 - MH4 with 40 Mono/ 4 Stereo channels in good condition.
MH4 - MH4 with 48 Channels in great condition.
MH4 - MH4 with flight case in great condition, previously used on rentals.
MH4 - Installed in a church and never toured. Will be protected before shipping.
MH4 - MH4 with flight case in great condition. Previously used on an installation.
MH4 - Used on various rentals. Comes with a 90 day warranty.
MH4 - MH4 with flight case in great condition. Previously used on rentals.