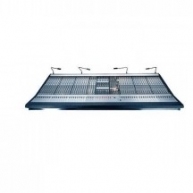 Don't be fooled by its modest price tag. Ideally suited for both Front-of-house and Monitor use, the new Soundcraft MH3 provides sound contractors and venues with the critical commercial advantage of complete console flexibility. All it takes is the touch of a button to place either Groups or Aux Masters onto faders, delivering intuitive and uncompromised operation in either application. The MH3 is available in five frame sizes with legendary Soundcraft sound quality delivered via a new high-headroom mic amp, Classic British EQ and rigorous circuit design.

What's more, the MH3 is a true modular console. Channels can be quickly removed and replaced in blocks of eight, making it easy to configure the MH3 to meet the user's precise requirements and ensuring the robust reliability a life on the road necessitates. A professional, modular, dual-purpose live sound console at a truly affordable price? Welcome to the Soundcraft MH3.
Soundcraft
Founded in 1973, Soundcraft first made its mark with the launch of the Series 1, the first mixing console in a flightcase. Back in the early 70's, the music touring business was just beginning - and the transportable mixing desk quickly became popular among the bands and the new PA companies that were springing up to rent out sound equipment. From what was then a small company in central London, Soundcraft expanded and started to diversify. The company designed a mixer for recording - the Series 2 - and began to build a reputation for great-sounding desks, which is often referred to as the favoured 'British Sound'. Design and innovation has always been one of Soundcraft's major strengths. Over the years it has introduced a number of industry-favoured consoles such as the Series 4, 2400, TS24, 8000, 200B, 6000, Delta, SAC200 and the Spirit Folio range, and more recently the Series FIVE, FIVE Monitor and Broadway. Today Soundcraft has a network of 88 distributors selling and supporting its products world-wide. Part of the Harman Pro Group, Soundcraft is still very much the dedicated professional mixing console designer and manufacturer it was back in 1973. It now boasts a range of mixers which are designed for use in live sound, recording, post-production, TV and radio production and disco applications. Harman is an international company which comprises a group of dedicated manufacturers of audio equipment spanning professional audio, in-car systems, multimedia and hi-fi consumer products.
Used Analog Mixing Consoles
MH3 - Corporate used MH3 with flight case in excellent condition.
MH3 - MH3 with 48 channels and flight case in good condition.
MH3 - MH3 with 32 channels in good condition.
MH3-40 - Soundcraft MH3-40 sound board with case.
MH3 - This is a 52 channel console. (8-Stereo) with double PSU case and multicore / stagebox.
MH3 - MH3 with 32 channels in great condition.
MH3 - MH3 - 40ch Comes with a 30 Day Warranty. Has not toured and has been used for broadcasting and corp...
MH3 - Console in flightcase w/ doghouse
MH3 - MH3 with 32 + 4 channels in good condition.
MH3-48 - Excellent condition. Installation from a Church. Well maintained.
MH3 Case - Comes with a 7 day warranty. Just a road case with built in dog house. Board not included.
MH3 - 40 Channel - Corporate used MH3 with flight case in great condition.