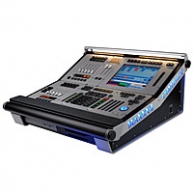 Maxxyz Compact offers full Maxxyz functionality and philosophy in a mid-sized console. With compact size and modular design, this professional lighting console is a new addition to the Maxxyz range.

Use Maxxyz Compact as a stand-alone 'plug and play' unit for great functionality at a surprisingly good price. Maxxyz Compact consists of four modules requiring only USB and power connections, assembled in a sturdy frame.

A superb performer
A powerful effects engine, Maxxyz Compact can control up to 16,384 fixtures, and allows up to 1000 cuelists with motorized fader control and 1000 cuelists using playback control buttons, with parallel execution of multiple cuelists. Sub-master, group master, and override functionality is included, and the Graphical User Interface is customizable.

Think new thoughts
The Maxxyz Cerebrum module is a compact powerful touch-screen computer, running the software on Windows XP Embedded that controls Maxxyz Compact, and which is at the heart of the modular concept. The Maxxyz Cerebrum can also be used stand-alone for controlling installations, for example in hotels, or on cruise ships.

Tough and approachable
Maxxyz Compact is designed for rough treatment during transport and shows. Modules are built with a solid aluminum construction to cope with tough environments, but also with attention to your needs. Maxxyz Compact is built to feel solid and responsive to your touch.

Designed for you
The new Maxxyz buttons feel right, sound right, and give excellent tactile feedback, especially on those long night-programming sessions. The digital LCD buttons allow for fast and direct programming, and with the Flash buttons and programmable function keys, Maxxyz Compact matches your preferences and work procedures.

So much easier to service
The plug-and-play construction means it is a simple matter to send a single module to service rather than the whole desk. Maxxyz Compact is extremely reliable, and a controller has never previously been tested this hard, including vibration, shock, and fall tests.

Familiar layout and GUI
Maxxyz Compact adds modularity to a similar physical layout and the same Graphical User Interface known from other Maxxyz controllers. This means there's a minimal learning curve required, before you start using your Maxxyz Compact.

Saves you money over time
The modular concept saves you money on your controller investment. Add additional modules as wings a cheaper alternative than conventional wing units. Swap modules within the frame, or upgrade to a larger frame to build an entirely new Maxxyz controller, meaning your original investment is saved.

You have control
Up to 32 DMX universes can be controlled by Maxxyz Compact, with four available directly from the console. Maxxyz Manager Software allows for programming and triggering via time and calendar schedules, and Maxxyz Compact communicates with Martin Show Designer Gold, Silver or Visualizer Software Packages. Communication with MSD Software Packages is via a direct DMX line or through a network connection using EtherDMX and the Artnet protocol.

Bring together lighting and video
Maxxyz Compact can control the Maxedia range of Media Servers for both video-based LC Panels and DMX-based Stagebars simultaneously. This convergence of video and lighting is possible, because Maxxyz Compact and Maxedia Compact share the same programming philosophy and terminology, and can network and share data with each other.

* Digital LCD buttons for fast and direct programming
* Multiple wing attachment (Maxxyz Modules)
* Up to 32 DMX universes, 4 available directly from the console
* Maxxyz Manager Software for programming and triggering via time and calendar schedules
* Customizable Graphical User Interface with context sensitive toolbars and integrated help menu
* Powerful effects engine
* Controls up to 16384 fixtures
* 1000 cuelists with motorized fader control
* 1000 cuelists with playback control buttons
* 5 customizable LCD function keys
* Parallel execution of multiple cuelists
* Submaster, groupmaster and override functionality
* Parameter and time-fanning functionality
* Auto update for presets and cues
* On-the-fly global timing adjustments


Martin Professional
Martin is the maker and distributor of entertainment control and intelligent lighting and effects. Martin uses the latest technologies to create these amazing machines for the entertainment industry. Martin is also a maker of high end sound systems known as
Used Lighting Consoles
Find used lighting consoles and lighting desks in well maintained condition from such popular brands as MA Lighting, High End Systems, Avolites, Jands and Martin Professional. All used lighting consoles come with warranty and many have been certified by factory technicians. Solaris sells and buys secondhand and used lighting consoles desks for touring production, churches, theaters, film, television and more. If you do not find what you are looking for give us a call.
Maxxyz Compact - Compact console. Comes cased. Very clean and has been used for mainly corporate and special events. ...
Maxxyz Compact - Corporate used Maxxyz Compact with flight case in great condition.
Maxxyz Compact - Comes with a flight case and a 60 day warranty. From 2008.
Maxxyz Playback - Maxxyz playback module. In great working order.
Maxxyz Compact - Unit used in corporate events. Great condition.
Maxxyz Compact - Maxxy Compact in great condition. Unit was used in corporate and social events.
Maxxyz Compact - Like NEW-(2)-Year Full Factory Warranty
Maxxyz Compact - Used on corporate events. Comes with a 30 day warranty.
Maxxyz Compact - Maxxyz Compact in good condition.
Maxxyz Compact - Corporate use only from 2008. Includes flight case, power cable, and monitor shelf.