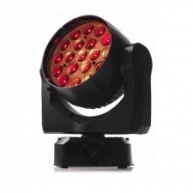 The MAC Aura is the first compact LED moving head wash light with zoom that offers never-before-seen, eye-candy aura effects yet also functions as a highly capable single-lens wash with fully pre-mixed color. A ground-breaking optical system combines multicolor LEDs with backlight aura color mixing to produce an all new visual palette that takes the synthetic look out of LED for truly unique lighting designs.
Martin Professional
Martin is the maker and distributor of entertainment control and intelligent lighting and effects. Martin uses the latest technologies to create these amazing machines for the entertainment industry. Martin is also a maker of high end sound systems known as
Used Moving Lights
Moving lights, or intelligent lighting as they are sometimes called, are basically a type of stage lighting that is able to move due to its integrated mechanical elements, which go beyond the moving parts that are found in more traditional, non-moving lighting. Automated lighting such as moving lights is highly valued by stage lighting technicians as through them, it is possible to create highly complex special effects that simply cannot be made using standard, non-moveable lights. It should be noted however, that when it comes to intelligent lighting, the real intelligence lies with the programmer of the show, rather than the lighting equipment or any operator. Moving head lights, also called moving head luminaires, are highly versatile lighting instruments capable of performing multiple lighting functions at once. They have largely superseded the use of multiple non-moving lights to create special effects, which required many lights and a large amount of skill on behalf of the operators. Moving lights are hooked up to a lighting control console and send data to it in one of three ways '?? through an Ethernet control (a relatively new technology), analogue control (now almost obsolete), or DMX, (which is now the industry standard). So long as they have been properly programmed, the optics of wiggly lights can be altered in many ways, allowing for the '??personality'?Ě of the lights to be adapted almost instantaneously, depending on the requirements of the operator. Typically, moving lights will be pre-programmed before a production and controlled using simple commands, although some more experience operators may prefer to control them '??live'?Ě, if they have the experience to do so.
MAC Aura - Corporate used MAC Aura in excellent condition, from 2013. Minimum purchase of (6) units, priced per...
MAC Aura - Refurbished MAC Aura from Martin Professional with 30 day parts warranty. Minimum purchase of (6) un...
MAC Aura - Package of (6) MAC Aura in great condition, from 2012.
MAC Aura - MAC Aura in mint condition, from 2012. Minimum purchase of (6) units. Priced per unit.
MAC Aura - MAC Aura in good condition, previously used on various events.
MAC Aura - Must purchase 4 units at this price.
MAC Aura - Mac Aura LED Movinglight. Powercon in and link. DMX 5Pin.
MAC Aura - Demo usede MAC Aura in great condition.
MAC Aura - Corporate used MAC Aura in excellent condition. Minimum purchase of (6) units. Priced per unit.
MAC Aura - MAC Aura. Excellent condition. Corporate use. Minimun order of (4) units. Priced per unit.