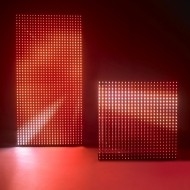 Database Error
Message:
MySQL Query fail: select REGISTERED_MODEL, ID_REG_MODEL, registered_manufacturers.REGISTERED_MANUFACTURER FROM registered_models LEFT JOIN registered_manufacturers ON ( registered_manufacturers.ID_REG_MANUF = registered_models.ID_REG_MANUF ) where REGISTERED_MODEL REGEXP '[[:alnum:]]+' && SEO_EXCLUDE_KEYWORD != 1 && LENGTH(REGISTERED_MODEL) >= 5 order by rand()
MySQL Error:
Error writing file '/var/tmp/MYgX1i5C' (Errcode: 28 - No space left on device)
Date:
Thursday, November 23, 2017 at 9:53:57 AM
Script:
/used/lc-2140/45325
LC Series? Specifications
The LC Series is a semi-transparent, modular system of LED panels, perfect for displaying video and images. Designed for stage shows, TV studios and other commercial applications, the LC closely integrates light, video and set design, offering entirely new possibilities for staging.
Features
* 40 mm pixel pitch (seamless image at about 30m)
* Extremely bright, 1800 NITs (cd/m2)
* Unique semi-transparent design
* Genlock feature for preventing light-flicker in TV applications
* Daisy-chain set-up with DVI-D connection (up to 6 modules per link)
* Simple, familiar assembly in truss mount format
* Units can be evenly joined for a seamless image
* Light weight modules, easy to handle, cutting cost and time
* All-in-one solution, with no external power supplies or drivers
Physical
Length: 1000 mm (39.4 in.)
Width: 105 mm (4.1 in.)
Height: 1004 mm (39.5 in.), LC 1140
Height: 2004 mm (78.9 in.), LC 2140
Weight: 14.3 kg (31.5 lbs.), LC 1140
Weight: 19.4 kg (42.8 lbs.), LC 2140
Control and Programming
Setting and addressing: DIP switch, LC Software
Video Processing
Video signal processor: Integrated
Video signal: XGA 1024 x 768 DVI-D (digital single link), 25x25 (LC 1140) or 25x50 (LC 2140) pixels displayed
Video signal frequency: 50 or 60 Hz
Genlock: Yes (via
Martin
DVI buffer box)
Photometric Data
Light source: 5 mm (0.2 in.) oval LED
Total output (max.): 1800 Cd/m2 (1800 nits) measured outside LED tubes, Ta 25deg C (77deg F)
Resolution, one fixture: 25 x 25 pixels (LC 1140), 25 x 50 pixels (LC 2140)
Pitch (pixel center-to-center): 40 mm (1.6 in.)
Pixels per m2: 625
Red dominant wavelength: 627.5 nm 2.5 nm
Green dominant wavelength: 522.5 nm 2.5 nm
Blue dominant wavelength: 472.5 nm 2.5 nm
Color resolution: 14 bits per color
Viewing angle: 100deg horizontal, 40deg vertical at 50% intensity
Used Video Panels
Video panels are used in concerts in order to create a large video wall for displaying visual effects and close-up shots of the performers during the concert. A video wall panel, also called a visual display panel or video tile, can be made from various different technologies, such as LCD panels, LED panel, rear projection screens and DLP tiles. LED video panel technology is one of the most favored types in video panels, as it is cheap to use, doesnâ??t overheat and provides an exceptionally sharp, clear image on the screen. Video panels are preferred to a single, extra large video screen for a number of reasons, not least because of the cost involved in creating an extra large video screen. Video panels can be disassembled, making them easier to transport, and they can also be customized â?? for example you can have an outdoor video panel or an indoor video panel, and by using individual panels the pixel density is usually much greater. One notable feature of video panels is that the â??bezelsâ?, the plastic surround that lines the edge of the video tile, is especially narrow. These are kept as narrow as possible on video panels so that the image on the finished video wall is not impacted noticeably by separating lines. Although it would actually be feasible to use multiple television sets or computer monitors to make a video wall, specially designed video panels are the preferred option, as they feature the necessary hardware to allow for smooth integration of all the video tiles used. This makes video panels easy to connect together with regards to power source and commands between the different screens, so their brightness and contrast can be easily calibrated.