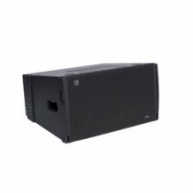 FEATURES:
Ultra compact self-powered line array system
No need of external amplifier racks
Two 4" neodymium Planar wave drivers (patent pending)
Four 5" neodymium ultra low distortion cone speakers
Wide horizontal coverage of 110
Vertical curving 0 - 10 variable in 1 steps
500 W RMS class D amplifier for the low and a 180 W RMS Mosfet amplifier for the high frequency
High SPL, superb quality sound
Optical limiters for state-of-the-art protection
Integrated rigging system for flown or ground stacked arrays
System integration with LA5A-SUB
The LA5A is an ultra compact 2-way self-powered line array system, designed for a wide range of venues where high fidelity sound and outstanding intelligibility are required. The system contains four 5" neodymium ultra low distortion cone speakers and two 4" neodymium Planar wave drivers.

The use of high efficiency class D amplifiers for the low and mosfet amp for the high frequency ensures small size, low weight and superb sonic performance. The integrated control electronic includes optical limiters for each channel, 24dB phase-aligned asymmetrical crossovers, all pass filters and EQs to provide a perfect match between amplifiers and loudspeakers for optimum acoustic output and reliability. The systems are designed for being used in multiples with a minimal configuration of two. Up to 20 units can be arrayed to achieve extreme high levels needed for larger venues.
An optional LA5A-SUB self-powered Subwoofer can be added for increased low frequency response. The integrated rigging system allows quick and easy flying or ground stacking. Arrays may be built straight or curved in various angular to obtain the desired vertical coverage. The fact that the LA5A is ultra compact and light reduces manpower and transport demand. When integrated with the LA5A-SUB the LA5A gives audio companies a flexible plug & play system for a wide range of applications from the smallest Venue to a concert-level sound.
Coda Audio
Used Line Array Speakers
Find used line array speakers and line array elements from such popular brands as L-Acoustics, d&b audiotechnik, Meyer Sound and Nexo. All used line array speakers are warrantied and in most cases inspected by factory certified technicians. Solaris sells and buys secondhand and used line arrays for large concerts, tours, stadiums and auditoriums. Call us if you don't find it and we will find it for you.