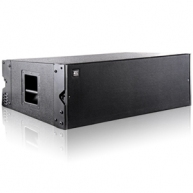 LA212 line array is a large-scale 3-way, tri-amped system, which provides frequency ranges from 50Hz to 16KHz. The system consists of 2X75 mm(voice coil)neodymium compression drivers, one 10″ neodymium MF driver and 2X12″ neodymium LF drivers to achieve an impressive headroom.
The Mid and Low frequency adopts a couple of 12″cone LF driver. Each unit's power handling is 400W and two units connect in series. One 10″ MF driver with high sensitivity is mounted at the rear of the HF driver to make up a coaxial configuration. A MF phase plug is mounted on the surface of the MF driver, which has excellently improved the directivity and increased sensitivity. The HF section utilizes 2x75mm(voice coil) neodymium complex film drivers coupled with a 90 exponential constant horn via plane-wave transducer to make an coherent wave front. The HF section with 113 dB sensitivity can make the loudspeaker generate 140 dB peak SPL output.
LA212 is a trapezoidal speaker with the seamless gap between each cabinet.
The adjustable angle of the cabinet is 0-7.5, 1 per step, the rigging hardwares are made of high strength steel. It is safe enough to hang 16 enclosures together, as the safety factor will reach up to 7:1.

The enclosure is constructed by multi-plywood, with panel in size 18mm, and other parts in size 15mm. It is finished with gray textured water paint. Two recessed handle cups are mounted on both sides of the enclosure for easy lifting and carrying. The rear panel connector plate carries 2 Neutrik Speakon NL8MP connectors for loop in and loop out connections. Besides, the enclosure is well protected by the gray mesh grill with acoustically reticulated foam.
ZSound
Used Line Array Speakers
Find used line array speakers and line array elements from such popular brands as L-Acoustics, d&b audiotechnik, Meyer Sound and Nexo. All used line array speakers are warrantied and in most cases inspected by factory certified technicians. Solaris sells and buys secondhand and used line arrays for large concerts, tours, stadiums and auditoriums. Call us if you don't find it and we will find it for you.