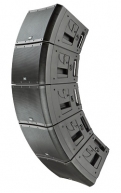 The KLA Series brings the power and sophistication of a line array system into an easy-to-use product significantly redefining the line array product category. With its simple Lift, Click and Play approach, KLA can be deployed in a fraction of the time required by comparable line array products.

This fixed arcuate, active line array system is ideal for a wide range of portable and permanently installed applications ranging from live entertainment to houses of worship or other venues where a line array system is desired.
QSC
After more than three decades in the business, QSC Audio Products, Inc., has become a globally recognized leader in audio manufacturing. This prominence is the result of the company's mission to establish new standards of reliability and performance through the development of breakthrough technologies. QSC changed the face of amplifier technology with the introduction of QSC's exclusive PowerWave switching power supply, a technological advance that makes heavy, bulky and inefficient amplifiers a thing of the past. PowerWave, first incorporated into the revolutionary PowerLight Series and now used in three other amplifier lines, is proof that high power can be achieved in small, lightweight packages. While QSC continues to set the standard for amplifier technology, the company has also made significant strides in computer control, digital signal processing and signal transport. QSControl (pronounced Q's Control), a remote audio monitoring system application, has proven its performance in systems worldwide, from the world's tallest buildings (the Petronas Towers in Malaysia) to Mandalay Bay Hotel and Casino in Las Vegas. QSC recently entered the professional loudspeaker business. Several of the company's enclosures incorporate Composiliteā?¢, a patented core composite technology that yields superior acoustic properties, lighter weight, and outstanding weather resistance compared to conventional enclosure materials. The introduction of RAVE (Routing Audio Via Ethernet), which gives users a simpler way of transporting up to 64 channels of digital audio using Peak Audio's CobraNet technology, provides more evidence of QSC's commitment to creating system solutions based on open standards and protocols. "When this company was started, there was a common commitment to creating with integrity," said QSC CEO Barry Andrews. "That commitment has strengthened over the years. QSC products have a reputation for quality, innovation and reliability. Moving into the fully integrated systems allows us to expand that commitment into an area we feel is the future of system design." The exceptionally high value of QSC products is achieved through developing leading technologies, world-class manufacturing techniques, and the purchasing power possible as the world's leading amplifier producer. To meet growing customer demand, QSC has expanded its manufacturing capability with a new 81,000-sq.-ft., state-of-the-art production facility. The new factory, which has the ability to triple QSC's production capacity, is located next to QSC's current 51,000-sq.-ft. headquarters in Costa Mesa, Calif. Manufacturing, warehousing, corporate offices, engineering, technical services, and sales are housed in both buildings.
Used Line Array Speakers
Find used line array speakers and line array elements from such popular brands as L-Acoustics, d&b audiotechnik, Meyer Sound and Nexo. All used line array speakers are warrantied and in most cases inspected by factory certified technicians. Solaris sells and buys secondhand and used line arrays for large concerts, tours, stadiums and auditoriums. Call us if you don't find it and we will find it for you.
KLA - QSC KLA 12. Used as a demo unit.